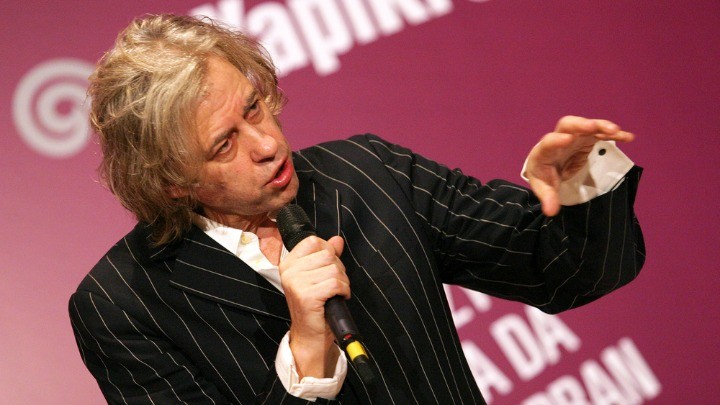 Remember when we thought we could change the world? Well those days are over, according to Bob Geldof, and unless the next generation does something drastic, we're on course for another world war. 
Sir Bob delivered a passionate off-the-cuff speech to 2000 young people at a summit in Bangkok telling them their generation was "stained with blood".
He said, "Your age group are the killers of Syria. The people your age are murdering people in Beirut, Sharm el Sheikh. And most immediately in our minds, those people who went to a pop concert, tried to watch a football match, eat with loved ones. Those people were killed because of your generation.
"We [the older generation] can't do much anymore but the reason we speak to you is because we are desperate to retract our failures," he said.
Geldof went on to offer this advice, which came with an admonishment: "What is required is tolerance, love and understanding. What is necessary is empathy. And you're failing."
The singer and activist told the assembled young people – who response to his speech with shocked silence, according to Huffington Post UK – that failure to do this meant dire consequences.
"If not, the poor will die in their tens of millions because they will not be able to sustain their lives on the earth which they walk. And in their panic they will strike out and the wars of 200 years ago will be of nothing."
He went on to say that baby boomers had created the world's problems.
"I'm not proud of myself and my generation because we gave you globalisation and in the confusion, many couldn't understand it and struck back not with their brains, but with their crude, stupid weapons."
Finally, Geldof told the young people to take action and stop wasting their time on social media.
"Forget the tweeting about bullshit. Get real with your governments," he said.
What do you think about what Bod Geldof has to say? Does he speak for you? 
Comments