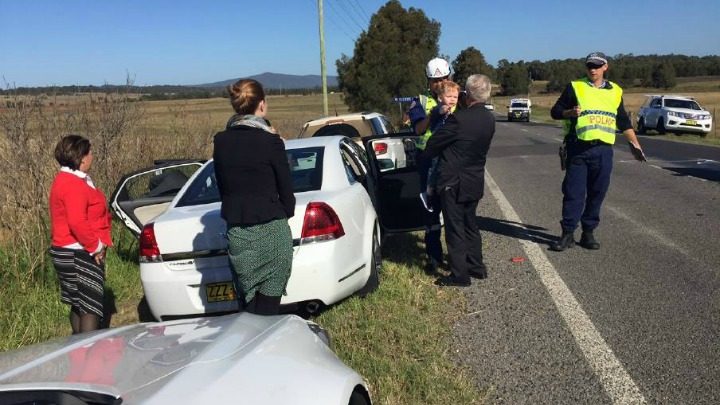 Bill Shorten has cancelled his campaign events and press conferences for the rest of the day after his motorcade was involved in a head-on collision.
Mr Shorten was travelling in his car when it was overtaken by a passing vehicle. This vehicle collided head-on with an approaching car on the other side of the road.
A woman and child, who were in one of the cars, were comforted at the scene by Mr Shorten, who led them to his vehicle to recover once they pulled over.
Mr Shorten was on his way to a campaign event in Maitland when the accident happened.
Car accident at Testers Hollow during Bill Shorten press conference …more to come pic.twitter.com/JCRAgkLvNj

— MaitlandMercury (@MaitlandMercury) May 19, 2016
Scene of crash at Testers Hollow near Maitland that happened just as Bill Shorten was arriving for press conference pic.twitter.com/FTjLqlyDPN

— Penny Evans (@Pennylouevans) May 19, 2016
NSW Police say both drivers of the cars involved in the crash were female and were trapped in their vehicles "for a short time".
One of the women, a 21-year-old, has been taken to hospital in a stable condition with head injuries.
The other driver, aged 33, and her 2-year-old son were assessed at the scene and once paramedics arrived.
Pictures taken by reporters on the campaign trail with Mr Shorten showed the mother and child sitting in the back of his car while he comforted the shaken pair.
It appears @billshortenmp has now left scene of head on collision – those involved have left scene pic.twitter.com/2Vb2e5vfM4 (@Dan_Bourchier)

— Sky News Australia (@SkyNewsAust) May 19, 2016
Mr Shorten has now left the scene of the accident.
Comments