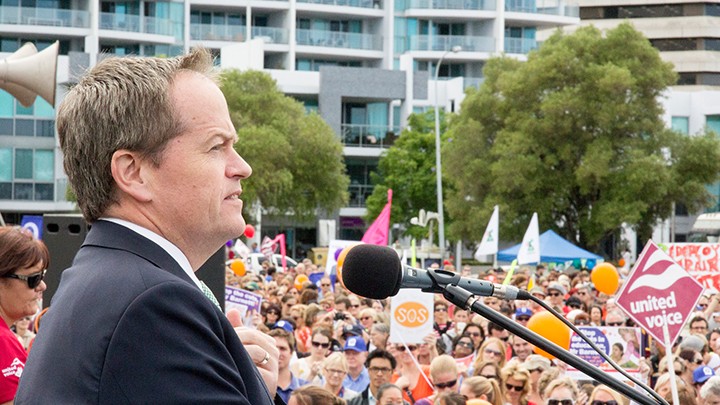 With an early election becoming an increasing possibility, the pressure is on Labor to offer a powerful alternative to voters.
Bill Shorten has just made his pitch. The Opposition Leader has pledged to fight for five key issues:
"A fair taxation system, standing up for Australian jobs, [and] a properly funded Medicare system — where it's your Medicare card, not your credit card, that determines the level of your health care," he said.
"We'll fight it around schools, TAFE and universities, where working class and middle-class kids, every child, gets every opportunity in every school and we'll fight it on making sure we've got fair dinkum policies on renewable energy.
Shorten said he would oppose the idea of an early election every step of the way, suggesting the Turnbull Government needs to "stop threatening the Australian people with the threat of early elections, just to cover up their lack of action on the economy of Australia."
 The possibility of going to the polls early has been floated a lot in recent weeks. According to the ABC, Malcolm Turnbull is seriously considering the possibility.
With the Senate expected to reject an upcoming bill (the reinstatement of the Australian Building and Construction Commission), this could be trigger for a double dissolution.
Turnbull told reporters on Friday that a double dissolution is "obviously available in circumstances where bills have been rejected within the appropriate time period".
He also spoke against Labor's proposed plans on investment properties: "Every home owner in Australia has a lot to fear from Bill Shorten … his policies will make your home worth less".
"You have to look at it very carefully you have to apply great care and attention, you need to you need to use a scalpel if you like, not an axe — and what Bill Shorten has done, he has set out to smash the residential housing market."
Shorten accused the Coalition of trying to distract attention away from the countless questions they've gotten this week: why is the Australian Government taking so long to reveal its planned tax changes?
"This is desperate stuff from a Prime Minister who has broken his promise to provide 'new economic leadership'," said Shorten.
"His Treasurer is off with the pixies and the Prime Minister is flailing desperately behind," he said.
Are Shorten's proposed priorities important to you? Is it enough to affect your vote one way or the other? And how do you feel about going to the polls early?
Comments