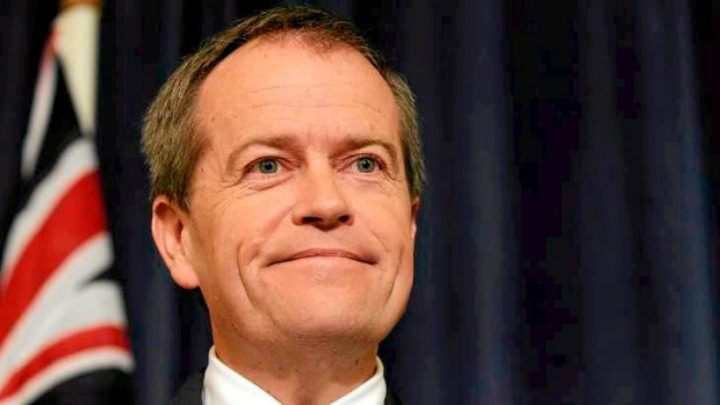 After years on the sidelines, Opposition Leader Bill Shorten is finally enjoying his time as the most popular kid in the political playground – on Google at least.
Interest in Mr Shorten has spiked in the past few days with Google's search results showing thousands of people have typed his name into the search bar to see what they can find out about the potential prime minister.
While it's easy to find all of the usual info, like how old he is, where he grew up and who he's married to, there are a few more interesting and unusual facts out there if you dig a little deeper.
Here's a quick rundown of everything you might want to know about the man himself.
FULL NAME AND AGE
William Richard Shorten, 48.
GREW UP IN
Inner west Melbourne, now lives in Moonee Ponds in Melbourne.
FOOTBALL TEAM
He is an avid Collingwood supporter, much to the disgust of many.
PAST JOBS
A lawyer and unionist – skills which he says will come in handy as PM.
MARITAL STATUS
Mr Shorten is married to Chloe Shorten who is the daughter of Australia's former Governor-General Quentin Bryce. They have three children together.
GREATEST MOMENT
Mr Shorten was thrust into the national spotlight during the days that followed the Beaconsfield mine collapse. He was National Secretary of the Australian Workers Union, which was the union representing the miners. Mr Shorten excelled as chief negotiator after the collapse and during the rescue ops.
DRINK OF CHOICE
Mr Shorten loves a glass or two of champagne, if this Hangover parody is anything to go by.
HIGHEST OFFICE HELD
Leader of the Labor Party
TELLING EXTRACT FROM FIRST SPEECH TO PARLIAMENT
Cementing his stance as a man of the people. "You see, when you are a union organiser – as people perhaps do not realise – you get the chance to see the full potential of individuals. On the boards of a woolshed, you know that shearers earn their pay. When you talk to steelworkers at the Port Kembla blast furnaces, to the underground miners at Mount Isa, to the oil workers in Bass Strait in winter or to those who staff the undertakers' night vans as they deal with the grief and tragedy of a road trauma or worse, you know you are in the presence of greatness."
SENSE OF HUMOUR
Pretty decent judging by this interview.
Are you a fan of Bill Shorten? Who will you vote for on election day?
Comments