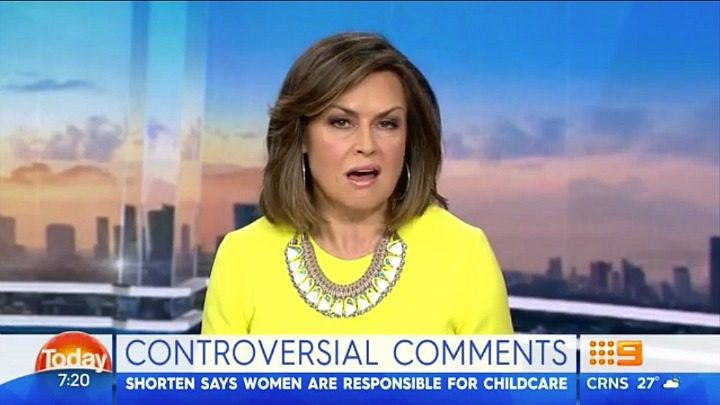 Bill Shorten's announcement about Labor's childcare policy has taken a turn towards the controversial after Today show host Lisa Wilkinson blasted him live on air this morning for his "dinosaur" views on women and childcare.
Mr Shorten announced a $3 billion childcare package yesterday, saying it was women who are most responsible for taking care of children and organising childcare.
"Let's face it, men in Australia rely on women in Australia to do the childcare and to organise the childcare," Mr Shorten said.
A number of people, including Ms Wilkinson, took issue with his comments, saying he was feeding into the stereotype that women are just caregivers and men do "the important stuff" like going to work.
"When Bill Shorten describes women as having the second job, that men 'rely on women to take care of all things when it comes to looking after the kids', in other words so men can get on with doing all the important stuff, isn't he simply entrenching a stereotype of women as second class citizens?" Ms Wilkinson said.
"Isn't parenting about sharing responsibilities? And isn't it confirming the outdated belief that women should always be in charge of the unpaid work and therefore giving any men who still do, permission to keep thinking that way … isn't that like so last century?
"Bill Shorten once described former PM Tony Abbott as a 'dinosaur' with his views on women of the Mr Shorten, I would suggest it might be time to take a look in the mirror."
Asking viewers for their thoughts, Ms Wilkinson asked "is the man who would be PM sexist or a realist?"
"If you're a working mum would you like a more equitable share when it comes to sharing childcare issues?" she asked.
A number of Liberal politicians have also lashed out at Mr Shorten, labelling his comments as "prehistoric".
When he announced the deal, Mr Shorten focussed his speech on women and didn't mention fathers once.
"Affordable quality childcare makes the difference as to whether or not mums are able to go to work, whether or not children get the best start in life," he said.
"Working mums in this country should not face the choice as to whether or not they pay double childcare fees or drop out of work."
Mr Shorten, however, didn't mention men.
"When I think of a family sitting on the couch, I understand how frustrated working mums are with the logistics of childcare," he said.
"I understand how difficult it is for a working woman with the kids trying to work out how on earth does she go to work if 80 per cent of what she's earning gets eaten up in childcare fees?
"Let's face it, men in Australia rely on women in Australia to do the childcare and to organise the childcare.
"So what I would say to the family sitting on the couch is this: 'I'll make sure that it's easier for both of you to go to work if that's what you choose to do'."
What are your thoughts on this?
Was Bill Shorten being sexist? Or, was he just being a realist?
Comments