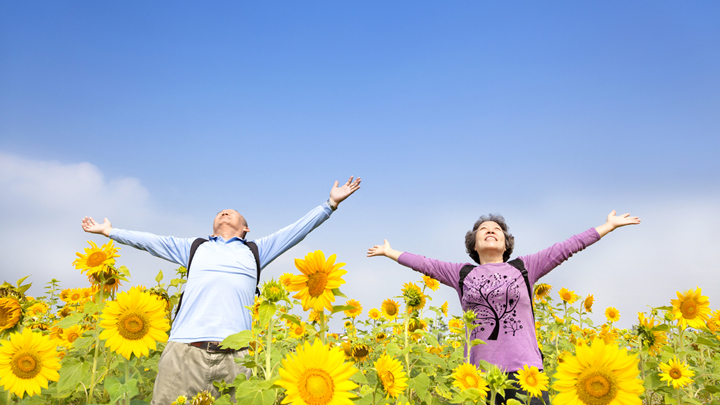 Sick of hearing about the Paris attacks, news bulletins about terrorism and just general sadness? We've rounded up the good news you might not have heard. Brighten your day with these lovely stories from around the world.
A great gesture of kindness
Not everyone is taught how to tie a tie. They might not have been shown in school, or they were raised by a single mum. Luckily for this young man, an older gentleman was able to show him how to tie his tie while he was waiting for a train.
The act of kindness was shared by Redd Desmond Thomas and has been shared over 220,000 times. He captioned it:
The young guy sitting down was struggling with his tie. The woman in the red coat noticed, and asked 'Do you know how to tie it properly?' The young guy said 'No ma'am.' She taps her husband and says 'Come to this side [her right side; he was standing on her left side] and teach this young man how to tie his tie." The older gentleman moved without hesitation [almost a reflex response] and gave him a step-by-step tutorial; then – afterward – the elder gentleman watched the young gentleman repeat the steps and show him that he had it. I was some distance away (but close enough to hear the exchange), and got even closer to snap this candid photo of the tutorial in progress before hopping on the train. I LOVE THIS!
As one commenter wrote, "Love that she is standing there kinda blocking them so others aren't watching so he's not embarrassed IMO. Great moment period".
The [email protected] Chorus sings for inmates
A few years ago, a group of men and women aged between 73 and 91 got together and made a choir. After practising for a while, the group visited the last place you'd ever expect them to go: the county jail. They went to the Hampshire County Jail to perform "Forever Young" by Bob Dylan for the inmates. Wow… what a powerful moment.
Check it out below:
Disney princess wigs for sick young girls
Hair loss can be upsetting for anyone, no matter their age, but it can be especially heartbreaking for little girls. So what did Holly Christensen do? She created beautiful yarn wigs modelled off Disney princesses such as Elsa from Frozen. Holly and her nonprofit known as The Magic Yarn project attach the strands are attached to crocheted beanies made of soft yarn, so as not to irritate the child's scalp.
Holly's friend's daughter Lily was the inspiration for the beautiful project – at just 3 years old, she was diagnosed with cancer. She made a beautiful Rapunzel wig just for Lily.
"I began to organise what I thought would be a small project creating a few dozen wigs to send to little cancer patients," says Holly on the Magic Yarn website. "Within hours, I was flooded with responses from around the nation—what started as a small project has snowballed into something much bigger and has many people eager to help"
An early Christmas gift for homeless children
Carol Suchman donates toys to homeless children every Christmas, but this year her annual good deed has gotten much bigger – she bought an entire toy store.
Suchman noticed a "Going Out of Business" sign in the window of the toy store, so what did she do? She bought it all and gave it to Department of Homeless Services (DHS) in New York.
"I've been doing this for many years and we have many generous sponsors," Antonio Rodriquez, director of special events at DHS, told NY1 News. "But I have to say, that this is the first time anybody ever bought out an entire store and donated it".
A magic pill to lose weight on the way
How simple it would be if we could simply swallow a magic pill to shed a heap of weight! For many, it could mean the difference between a long and comfortable life and a short and painful one.
Well, in the US, that magic pill has been invented and is soon to come before the Food & Drug Administration for consideration.
Find out more here
Thank you to the nurses
Have you ever stopped to think how amazing nurses really are? They are there in the darkest hours of people's lives, constantly caring.
One man set out to tell the world just how wonderful nurses are – and he would know. He is married to one. The post he wrote about her daily routine has gone viral on Facebook, shared more than 160,000 times.
Bindi nails it – again!
She has foxtrotted, waltzed and rhumba'd her way into the history books, but last night Bindi was allowed to shine in a modern, interpretive dance that was literally outside the box.
The dance, one of three she performed in the two-hour Dancing With The Stars special, earned her a perfect score. Watch her dance here!
Tell us, what other good news have you heard this week?
Comments