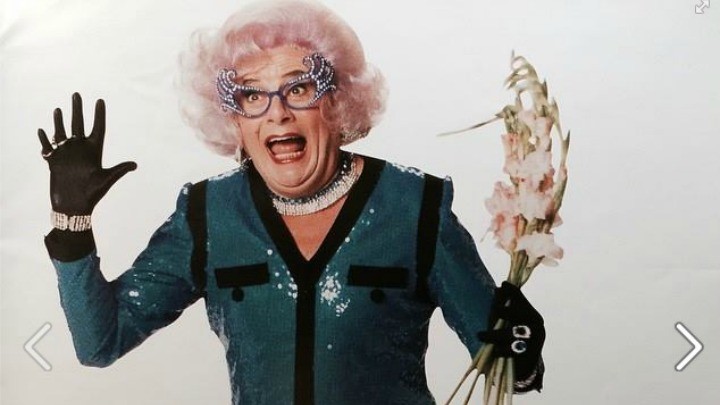 Having made a living out of playing his much-loved doppelgänger Dame Edna, Barry Humphries has raised a few eyebrows with his comments about the world's most famous transgender woman, Caitlyn Jenner.
In an interview with The Telegraph in the UK ahead of the Dame's upcoming tour, Humphries said he agreed with Germain Greer who said "trans" women such as Caitlyn Jenner (formerly the Olympic athlete Bruce Jenner) are men "who believe that they are women and have themselves castrated".
"I agree with Germaine! You're a mutilated man, that's all," he said in the interview. "Self-mutilation, what's all this carry on? Caitlyn Jenner – what a publicity-seeking ratbag. It's all given the stamp – not of respectability, but authenticity or something. If you criticise anything you're racist or sexist or homophobic."
Humphries comments were made in relation to a question about whether he considered himself to be right wing.
"I don't know anything about politics," he said. "But the far Left is so conservative, paradoxically, inflexible, doctrinaire and humourless. You can't describe the world as it is any more. You get jumped on."
That said, Humphries is only too happy to oblige.
"I'm happy to say I do. I give offence therefore I am. Not too much offence, though."
On that note, he tells this tale:"I had a Nazi friend – repentant, he wrote a book about his time in the SS. When he died his widow said among his last words were: 'Zat Barry Humphries, ze Führer would have adored him.'" Why? "I have no idea," he shrugs. "It's hypothetical, since Hitler never actually met me, but I thought it would make a great strapline on a book."
Humphries has been criticised on social media for his comments about Caitlin Jenner.
The irony of Barry Humphries preaching negativity towards Caitlyn Jenner, after he has made millions impersonating a women.

— Mikkayla Mossop (@MikkaylaMossop) January 5, 2016
Barry Humphries I am Disgusted in you. Your comments on Caitlyn Jenner are Transphobic to say the least. I… https://t.co/r3o5Mf3tki

— Penny Clifford (@PennyClifford) January 5, 2016
Do you think Barry Humphries comments go too far, or does he have a right to share his opinion? Are you a fan of Dame Edna?
Comments