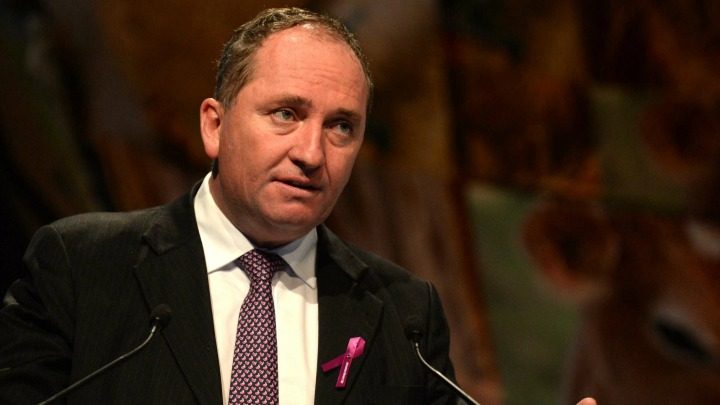 Deputy Prime Minister Barnaby Joyce has made a controversial call about asylum seekers on live television.
Mr Joyce was participating in a regional leaders debate when he suggested the influx of asylum seekers from Indonesia was due to Australia's ban on live cattle export to the country.
He openly suggested that Indonesia had opened the flood gates on asylum seeker boats and sent them to Australia as revenge over the live export issue.
The crowd was heard howling at his words, while debate host Chris Uhlmann, Greens leader Richard Di Natale and shadow agriculture minister Joel Fitzgibbon looked on in disbelief.
When he was asked to clarify his comments, Mr Joyce said the ban had created "extreme bad will" with Indonesia.
"Might I remind you that when we closed down the live animal export industry, it was around about the same time that we started seeing a lot of people arriving in boats in Australia," he said.
"Do you genuinely believe that those two things were linked?" Mr Uhlmann asked.
"I think that our capacity to have a strong working relationship with Indonesia is affected by them relying on us to be reliable suppliers," Mr Joyce replied.
Mr Uhlmann pressed on: "Do you realise that you are suggesting that the Indonesian government then unleashed the boats in response?"
Mr Joyce replied: "I think it's absolutely the case that we created extreme bad will with Indonesia when we closed down the live animal export industry."
Australia banned live cattle export to Indonesia in 2011 after shocking footage was released showing the animals being abused by handlers.
According to Parliamentary Library figures, 4940 asylum seekers arrived by boat in 2010-11, increasing to 7983 in 2011-12 and 25,173 in 2012-13 – a number which Mr Joyce says is directly linked to the export ban.
It's not a theory that has been suggested before, which is why so many people were initially caught off guard by the suggestion.
However, Mr Joyce has already found some support with some comments on social media backing him up.
The influx of asylum seekers into Australia and calls to accept more refugees has been a hot topic in the election campaign so far, with both parties firmly standing their ground on their respective policies.
Mr Joyce's comments are sure to add more fuel to the fire with people already debating whether or not he is right.
What do you think?
Was Australia's ban of live cattle export to blame for more asylum seekers coming to Australia by boat? Or, is Barnaby Joyce totally off the mark?
Comments