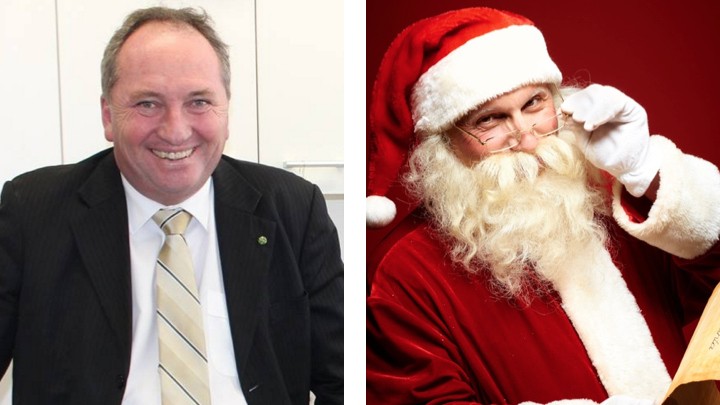 Ho ho ho.  Barnaby Joyce and Santa have joined forces in Parliament, releasing a statement together, and it is more than good fun.  Do you think this is a worthy attempt at teaching us something important with light entertainment?
Australia's biosecurity measures over the Christmas period have become so significant that Barnaby Joyce has decided the best way to draw attention to them is by releasing the joint statement with Santa Claus pleading for community support.
With just two weeks to go until Christmas,  and the Australian mail services working over time, Mr Joyce's message was distributed through the Federal Press Gallery on joint letterhead complete with a coat of arms.  Christmas is going ahead this year as scheduled was the formal message and the Government needs our help to reinforce Australia's quarantine laws.
Could Santa's influence be the key to stopping people mailing things they shouldn't or shopping online and having things sent to Australia that might not be appropriate?
"You've got to admit, Santa Claus has a big job — but so do we in managing Australia's biosecurity system," Mr Joyce said in the announcement.
"We can't just let foreign animals, unknown packages and soiled vehicles into the country willy nilly, so we need to make some special considerations to help Santa get his job done.
"That's why we work closely with Santa and his elves in the lead up to Christmas to make sure everything runs as it should."
Like I always say to the Easter Bunny, with a bit of extra planning and so long as you declare anything that you need to, you won't have any problems.

Santa Claus
"My elves have passed all the Christmas presents on to the Department of Agriculture and Water Resources early, and the friendly staff and detector dogs at Australia's international mail centres are working overtime screening the presents in time for Christmas Eve."
It is no small feat managing mail service quarantines at Christmas, particularly with the growth of online shopping.
"More than 146 million mail items move through our mail centres each year, and we usually see around a 50 per cent increase in mail during this holiday period," Mr Joyce said.
"I take no joy in the fact that we seized about 5,000 items during the holiday period last year — and I'd like to see that number drastically reduced this year.
"Christmas items like wreaths, food and some toys made of wood or containing seeds or sand have the potential to bring pests and diseases which could harm human, plant and animal health, so it's best not to send them."
A good way to get the attention of the community? 
Comments