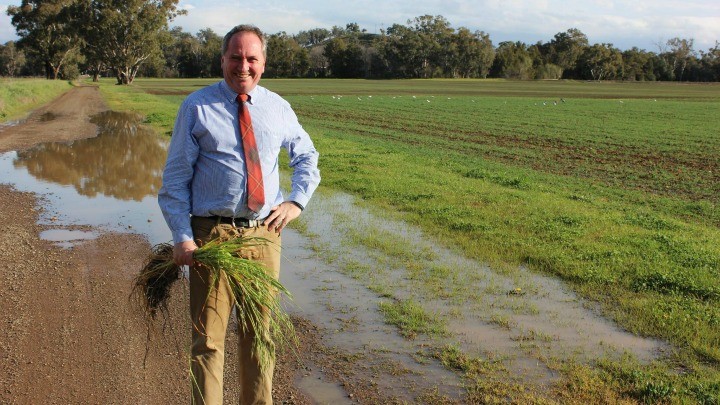 If Barnaby Joyce wants to become the next Deputy Prime Minister, there are some promises he needs to make, according to the editors of a regional newspaper.
In an open letter to Mr Joyce, the Betoota Advocate has made the following demands:
An open letter to Barnaby Joyce Member for New England:
Mr Joyce, it has come to our attention that you are within a very good shot of being chosen as the next Deputy Prime Minister of Australia.
This also means that you will become acting Prime Minister in the winter months of each year.
As we are the most-read regional newspaper in Australia, you should be very aware of the role The Betoota Advocate plays in the Australian political landscape.
In other words, we will be the ones who decide whether or not Malcolm Turnbull chooses you.
After spending months talking with our readers and visiting every single CWA branch in the country, we have compiled a list of conditions that you must agree to before we can give Malcolm the go ahead.
They represent the sentiments held by our newspaper, our readers and the residents of the Australian Outback. They are as follows:
– You MUST come good on your promise for a live interview with The Betoota Advocate before April this year.
– You MUST quit smoking
– You MUST stop Malcolm from pointing at everyone with his folded, square-frame glasses.
– You MUST agree to be the only male on an entirely feminist ABC Q&Apanel. Tony Jones will be replaced Clementine Ford and the entire audience will also be female.
– You MUST Stop the Mosque in Betoota
– The moment Malcolm Turnbull leaves the country, your first priority will be implementing a nation-wide ban on the AFL.
– You MUST sign off on the proposed 200-foot statue of Bernard Fanning on the Kangaroo Point cliffs
– You MUST remove Dutton's mobile phone privileges and tell Julia to stop death-staring at people in airports
– You MUST make your family home available to our editors during their visit to the Tamworth Country Music Festival
– In accordance with the wishes of our farmers, you must also sell Melbourne, and relocate all proceeds into the Department of Agriculture's Drought Relief Assistance Scheme.
– You must be recorded using the words "South-West Queensland" at least 45 times in all media appearances over the course of 2016.
– You MUST work with the Minister of Education to allow cartwheels back into Australian Primary Schools, as well as refereed boxing.
– You MUST introduce an Outback Queensland team to the NRL – National Rugby League
– You MUST be able to drink an entire schooner glass of XXXX Bitter faster than Tony Abbott put away a pot of Pure Blonde.
– And lastly, you must make an appearance to the 2016 Betoota Races & Gymkhana.
It's not too much to ask, Barney. And it's not negotiable.
Your people have our contact details. We look forward to hearing from you.
As you may have gathered, despite claiming to be Australia's oldest regional newspaper, the Betoota Advocate is, in fact, a satirical website that was poking a bit of fun at the Agriculture Minister. But that didn't stop the Agriculture Minister from responding in the best possible way.
What did you think of the Betoota Advocate's "demands" and Barnaby Joyce's response? Did he hold his own, or would you have preferred a more considered response?
Comments