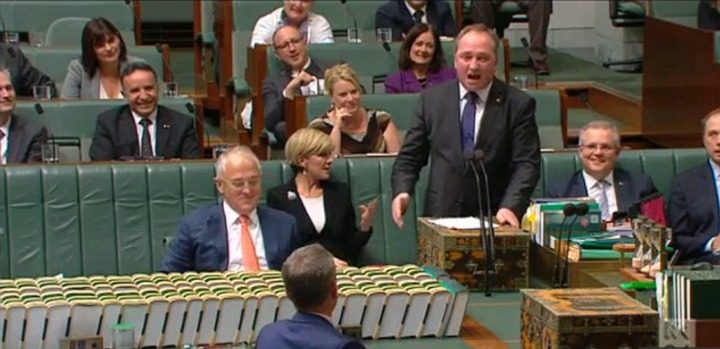 While some world leaders are busy trying to solve healthcare, economic and social issues, Deputy Prime Minister Barnaby Joyce has his own bone to pick – with fish.
Mr Joyce delivered an impassioned speech to parliament yesterday about the dangers of carp, which he says should be infected with herpes to eradicate the pest in the Murray Darling Basin.
While the issue may be serious, Barnaby was mocked mercilessly on social media after he used his slot in Question Time to launch a tirade against the fish.
"We are afflicted with this disgusting mud-sucking creatures, bottom dwelling mud-sucking creatures, for which the only version of control is a version of herpes to try and get rid of these disgusting mud-sucking creatures," Mr Joyce said.
"No we don't want to deal with carp," he continued. "We gotta get rid of the carp. But we don't want to have to deal with carp."
His colleagues could barely contain their laughter with Malcolm Turnbull and Julie Bishop pictured trying to suppress their smiles.
The speech quickly made its way around social media with people calling it 'carpageddon'.
Barnaby made headlines when he launched a similar style attack on Hollywood star Johnny Depp and his wife Amber Heard for illegally bringing their dogs Pistol and Boo into the country last year.
He famously threatened to euthanize the dogs and forced Johnny and his wife to submit an offical apology video when they appeared in court on the Gold Coast.
Take a look at Barnaby's speech and tell us, do you support his plan or does it just make you laugh.
Do you like Barnaby Joyce's speech? Are you happy he is so passionate about wildlife? Or, is this speech just plain weird?
Comments