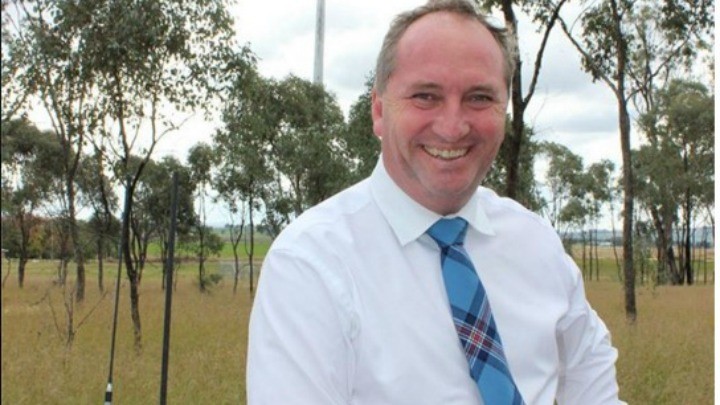 Nationals leader and deputy prime minister Barnaby Joyce kept his responses simple during a television interview with Today Show host Lisa Wilkinson, after she urged him to be more direct.
Usually one to enjoy a good chat, Joyce took a more succinct form of response throughout the live cross.
The amusing exchange occurred when Wilkinson asked the politician if he was impressed with Malcolm Turnbull's performance as prime minister.
.@Barnaby_Joyce is a man of many words… #9Today https://t.co/ZKgGeDDEUD

— The Today Show (@TheTodayShow) July 5, 2016
"Look, it's the hardest job in the book, to be prime minister during an election campaign, and I think that Malcolm is definitely the leader that the nation needs. We have a choice between Bill Shorten or Malcolm Turnbull and I think it's not stretching it too far to say in uncertain economic times, by reason of Brexit, that we need a person who has at least proved himself in his own life as having strong economic credentials, strong management capacity, so I think it's better for the nation," Joyce responded.
When Wilkinson repeated the question, Joyce said, "I find he's a good person."
"It's a simple question, are you impressed with his prime ministership?" Wilkinson asked a third time.
Joyce replied, "Yes" before delivering a handful of one word answers in response to further questions by the host.
"Does he do a better job than Tony Abbott would have done?" Wilkinson asks.
"Yes."
"If the Coalition does cling to power, will you have a more active role in government, as your members are demanding," she asks.
"Yes."
Wilkinson then encouraged Joyce to elaborate on his answers, to which the politician laughed and said, "I like these monosyllabic answers, they are great, they keep me out of trouble."
As we enter another day of vote counting, Joyce remains confident the Coalition will be able to form a majority government.
The general picture is that Labor's lead is diminishing in some of the ultra-marginal seats, and postal votes are favouring the Coalition. ABC News 24 has the LNP in front with 70 seats won, followed by the ALP on 67 seats.
Did you think Barnaby Joyce was being smart by providing one word answers? How do you think the election will wrap up?
Comments