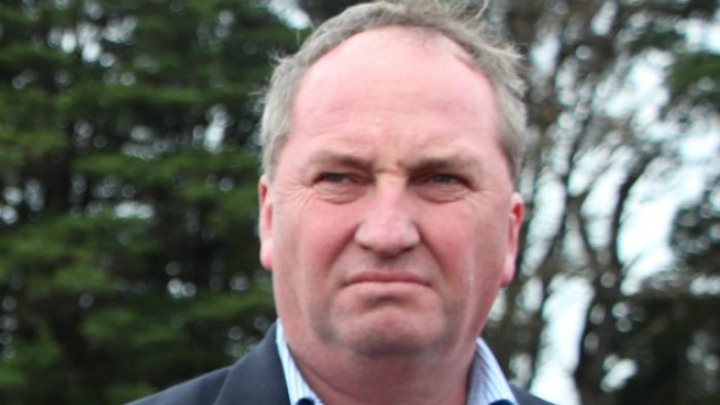 It has been revealed the Deputy Prime Minister Barnaby Joyce told a constituent to "piss off" after a heated exchange of words at a pub in his New England electorate.
Mr Joyce was at the pub with members of his staff when he reportedly lost his temper at a woman who was questioning him about mining in the area, telling her to "piss off" three times.
Fairfax is reporting that at least five people witnessed the event, with some saying the woman, Nicky Chirlian, was badgering the deputy PM before the altercation and others saying Mr Joyce flew off the handle without warning.
"A group of us were having dinner and I saw him walk into the public bar," Ms Chirlian said.
"I decided I would go over and ask him to please attend the forum."
According to Ms Chirlian, Mr Joyce responded: "Nicky, I know what you're doing. You do this every time".
Ms Chirlian said he returned from the bathroom a few minutes later and she tried to talk to him about the mining issue one more time.
"He got really quite loud, other people in our group who were in the other room could hear him. He said 'Nicky piss off, just piss off, piss off'," Ms Chirlian said.
"He was physically quite close. He's a big bloke and I'm 5″6 and coming up on 60 years-old. I was pretty shocked.
"At that stage the bar staff woman came in beside me and she put her arm straight out between Barnaby Joyce and myself.
"I'm a constituent. I'm pretty insulted because I felt like he was using a bullying tactic. He might not like me or want to come to our forum but I don't think that's appropriate behaviour for the Deputy Prime Minister."
However, others have different version of events with Elizabeth Feitz, who was also in the pub at the time, saying Ms Chirlian "ran across the bar and accosted him".
"I couldn't hear what they were saying but they kept following him around. They were absolutely in his face. They wouldn't go away," she said.
"He asked them to go away and, yes, he did say 'piss off' eventually but they kept following him.
"We yelled across to the bar staff to intervene but it was more about getting the woman away from Barnaby Joyce. He'd given up on having a beer with us at the point and was getting takeaways."
Mr Joyce and Ms Chirlian had previously met when Ms Chirlian attended Q&A's program in Tamworth on Monday night, when Mr Joyce was on the panel, and argued over the issue of mining in the area.
Despite the different version of events, both parties have said that Mr Joyce did indeed tell Ms Chirlian to "piss off", language you wouldn't normally expect from a politician speaking to his constituents.
What do you think about this revelation? Do you expect more from the Deputy Prime Minister? Or should is Ms Chirlian at fault?
Comments