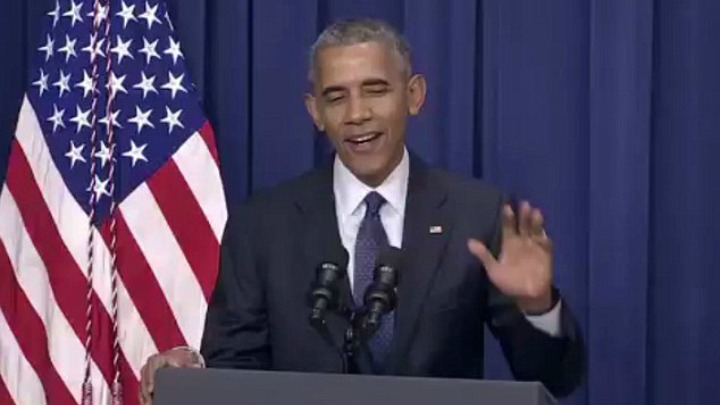 President Barack Obama has responded to the shootings in Munich, Germany, that left at least eight people dead and 10 injured. Mr Obama delivered a brief update to reporters at the White House on Friday afternoon, July 22, about the shooting that left Munich on lockdown.
With at least two suspects still at large, people are being urged to avoid public spaces. Munich Police have confirmed there are 10 people dead, including one possible gunman.
One witness to the attack said children were deliberately targeted.
"Boom, boom, boom, I heard, and then I saw all the injured," said Lauraetta Januz. "I was back to back with him, I was in the bathroom with my kid, and I only saw him shoot directly into the faces of children."
However, there have been reports by various outlets that suggest that Mr Obama was making light of the situation – because of a personal reference that crept in to his otherwise stoic speech.
The Bizpac Review stated, "It's always about him." and "Just hours after he mocked Donald Trump for his "doom and gloom" view of the world, President Obama stood before the press and laughed while briefing reporters on yet another deadly attack in Munich, Germany."
The Daily Mail's coverage seemed to also want to focus on the joke, saying, "As news reports of a gun massacre in Munich crossed the Atlantic Ocean on Friday, the President of the United States was cracking jokes."
There was backlash on Twitter too:
@CraigMoyle1 @WhiteHouse @POTUS Yeah, I was thinking the same thing. Wrong time to joke around. Very inappropriate.

— Debra Pasquella (@DebraPasquella) July 22, 2016
Obama joking and laughing during the press conference about the #Munich attack. Real nice. Thanks for respecting our dead.

— Krissi (@Kalilies) July 22, 2016
Obama is a disgrace. Laughing after this tragedy, weak leader. Very sad he is supposed to be our leader. We need change #Munich

— #FreeMilo (@CJLango) July 22, 2016
Watch the video below:
What do you think – was he out of line or are the media just focusing on the wrong thing?
Comments