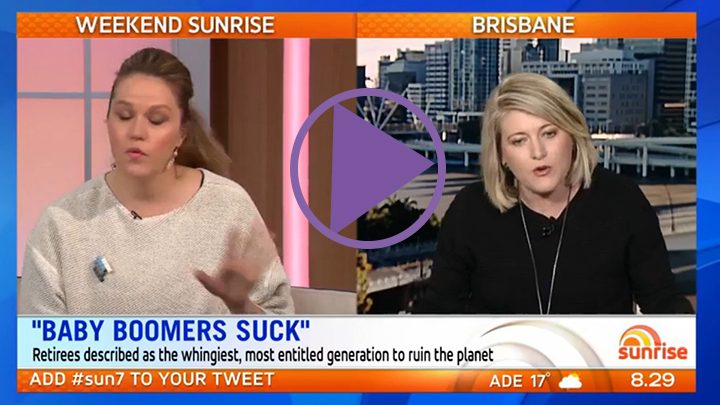 Many of you have something to say about today's debate on "Spending the kids' inheritance" that took to air on Weekend Sunrise on Channel Seven Television in Australia this morning.  The debate between columnist Victoria Hannaford from the Daily Telegraph and the Founder of Starts at 60, Rebecca Wilson got heated… very heated.
You can watch the segment here.
On Facebook…

It all stems back to an article written by Ms Hannaford last year decrying Baby Boomers for spending their kids inheritance.  She wrote…
"…they've turned into the whingiest, most entitled, condescending and argumentative generation to have ever ruined a planet. And that's just when they're asking for directions and then disputing your advice (yes, this actually happened to me a few weeks ago)
"It's not enough for them to have enjoyed free tertiary education, affordable housing and unparalleled acquisition of wealth. They want you to feel inferior while they swan about between their three properties, and pay attention as they deliver imperious lectures about fiscal responsibility and the younger generation's obsession with flat-screen TVs"
"I need your help before I divorce my parents. Every time they return from an overseas holiday or buy a new car they joke about "spending the kids' inheritance".
"I gave up on getting an inheritance years ago, but their selfish, self-obsessed attitude makes me want to scream…", the letter reads.
At the time we wrote a very heavily commented on response…
It debates the same points made above in the Sunrise segment… That our boomers have battled 17 percent interest rates whilst raising a family, supporting the older generation and now, at retirement deserve to spend their savings.  This is your time.
Join the conversation online today… We're having this conversation on Natterat60.com in a big way…where we can save your replies properly and send them to Victoria Hannaford … So be sure to leave them there and on Facebook, and give the article a share…
Visit this article on Natterat60 NOW… share your opinion with other over 60s… We're going to send Ms Hannaford your Natterat60 responses!  http://natterat60.com/t/baby-boomers-suck-we-fight-back-on-weekend-sunrise/803
See the story from last year here…
News Limited columnist writes "Baby Boomers Suck": We're shocked!
Comments