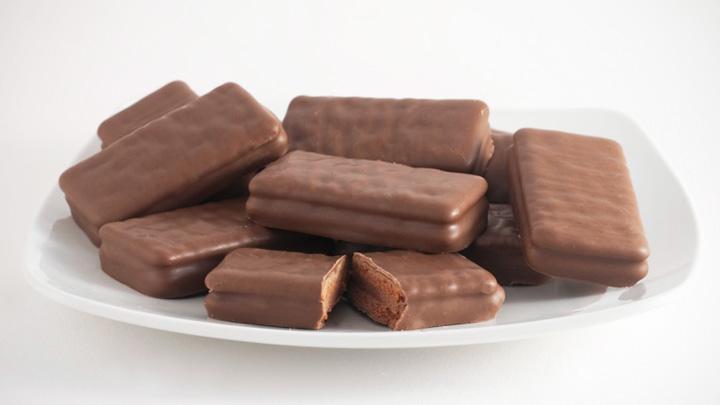 Tim Tams have been pulled from supermarket shelves across the country, after Coles have taken one for the customers in a bitter fight with manufacturer Arnott's.
It's an unfortunate pause on the sale of Australia's favourite biscuits, however it was necessary to stop a price hike of up to 10 per cent.
According to an exposé by The Australian, the dispute between the companies started when Arnott's demanded price rises on some of its biscuits — including Scotch Finger, Teddy Bear, Monte Carlo and TeeVee Snacks — and on some popular Campbell's cooking stock products.
Arnott's has now refused point blank to supply Coles with up to six Tim Tam varieties and a range of other biscuits after Coles refused to accept the price rises.
"Arnott's refused to give us the detail on this," Coles managing ­director John Durkan told The Australian, "so we had to refuse the cost increase. When we refused the cost increase, Arnott's refused to supply us."
Right now, neither party looks set to budge.
The Australian revealed Arnott's stopped sending trucks to Coles ware­houses from as long ago as October 12, meaning supermarkets have been running low on products.
Popular Tim Tam brands such as Adriano Zumbo's coconut cream, choc raspberry and salted caramel creations, with original Tim Tam multi-packs have been placed on indefinite hold.
But what Coles did have to do for the sake of customer demands was accept price rises of between 2.2 per cent and 9.9 per cent on 44 Arnott's biscuit products, including the Original Tim Tam 200g packets.
However the supermarket is currently still refusing to accept price increase on the 10 brands which are now not able to be found on shelves.
"There was no justification for the price rise," Mr Durkan said.
"We decided that, because we ask all our suppliers to provide justifications for their price increases because we have to pass this on to our consumers, and if we have to pass this on to our consumers we want to be able to explain it.
"I think it's fair to be able to ­explain it to consumers why prices are going up.
"They just refused to supply us with their products".
A spokeswoman for Arnott's claimed yesterday the company was not in dispute with Coles but declined to comment about the refusal to supply in October and its decision to block supply of a nation's favourite biscuits.
Tell us, are you disappointed about the block on some of the better Tim Tam varieties? Or is it understandable? Are you happy Coles took a stand for customers?
Comments