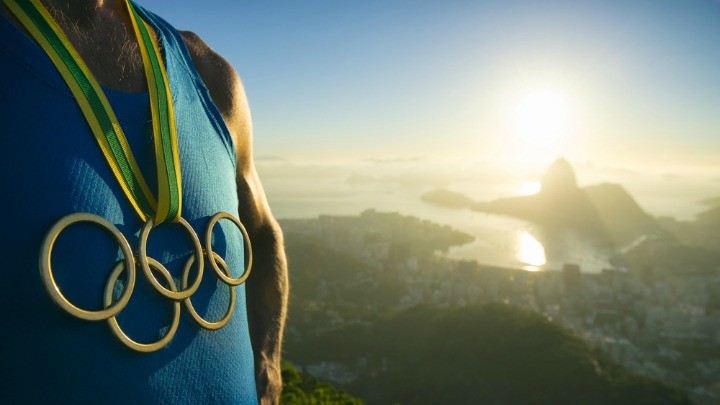 The formal uniform to be worn by Australian athletes at the Rio Olympics opening ceremony and it is copping a lot of feedback. 11 athletes modelled the outfit on Bondi Beach, showing us how it will be worn. They have been designed as "retro candy pin stripe" blazers in a preppy look. Men will wear a yellow tie complete with horizontal green stripes, white shorts and leather shoes, and women will wear a green and gold scarf with a white skirt and shoes.
The uniform is designed by Sportscraft, the seventh time it has been responsible for our team's outfits. The design has been worked on for two years, and according to Sportscraft the look reflects Australia's heritage and lifestyle. They say form and functionality was carefully considered and applied to suit the best interests of our athletes who will spend hours wearing the outfits in the hot Rio sun.
"The design project began with the Sportscraft team working to three leading priorities; honouring our Australian Olympic Heritage; designing fashionable, but wearable uniforms that meet the wants and needs of the athletes; and outfitting the team in a look that represents the Australian lifestyle, and is also fitting for the climate and the festive spirit of the host city Rio," says the official announcement.
The criticism is true to form for an Australian outfit unveiling, with much of the nation responding in shades of horror online. Some say our team looks like a "peppermint", others say the look is "refreshing". The most unkind comments include people calling it a "private school uniform" and "perfect yacht club attire".
Take a look and tell us what you think in the poll, and the comments.
Olympic Team Uniform The Olympic team uniform has been REVEALED. What do you think of it? #sun7

Posted by Sunrise on Tuesday, March 29, 2016
so brave of the Australian Olympic team to wear compressed JPEG clothing around Rio pic.twitter.com/kBpoNZgpWm

— Campbell Simpson (@csimps0n) March 29, 2016
Comments