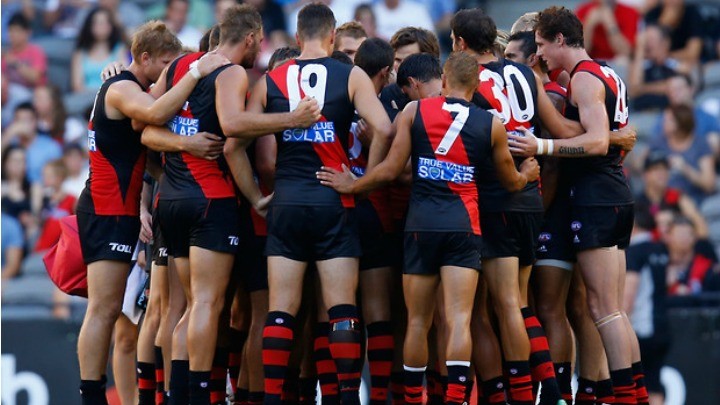 If Australia prides itself on one thing, it's good sportsmanship. We have consistently "punched above our weight" on the world stage and have a sting, some might say, sports man, culture of loving a good game…. of anything.
Now our only national sport has the worst kind of black mark against it, as the AFL team Essendon Bombers becomes the first team in Australian history to be banned from playing.
In a shock decision this morning, the Court of Arbitration for Sport found 34 players guilty of taking the banned substance Thymosin Beta-4 three years ago. These players are now banned from playing for two years.
The current Bombers team loses 12 players, including their skipper Jobe Watson, whose 2012 Brownlow medal is now under scrutiny, along with vice captain, Dyson Heppell, plus their star player Cale Hooker. All in all, the team is pretty much wiped out for the 2016 season.
Five other players have moved on to other teams and will also miss the season (from St Kilda, Western Bulldogs, Melbourne and Port Adelaide), however AFL.com.au reports that most of the suspensions will come to an end on November 13, taking into account provisional suspensions already served.
The decision, which is final, overturns the AFL Anti-Doping Tribunal's not guilty verdict handed down in March, following an appeal by the World Anti-Doping Authority.
The 34 players took the substance as part of the team's training and supplement program.
The CAS said it found that the code against using banned substances had been violated and that "all players were significantly at fault", despite arguments that the players were simply doing what they were told by their coaches and trainers.
Australian Sports Anti-Doping Authority CEO Ben McDevitt said: "This unfortunate episode has chronicled the most devastating self-inflicted injury by a sporting club in Australian history."
He said there was "little ground" for the players to claim it wasn't their fault seeing as they should be responsible for whatever goes into their bodies.
"At best, the players did not ask the questions, or the people, they should have. At worst, they were complicit in a culture of secrecy and concealment," he said.
This verdict will have significant repercussions at home and around the world – possibly affecting Australia's reputation as a nation of good sports.
Essendon Chairman Lindsay Tanner made this brief statement to fans:
"Regrettably we can confirm the Court of Arbitration for Sport has found 34 past and present players guilty of committing an anti-doping rule violation.
"As a result, the players – including 12 currently listed with Essendon – have been suspended for the 2016 season. The Club is currently digesting the decision and we will provide a further update later today."
One Fan wrote on Facebook: "What the hell? They lost their points in 2013, coach suspended, club in all sorts of trouble. THREE years later the players are suspended?! FFS – they have been punished enough. I am so upset with this decision."
Another said, "As an Essendon supporter, I take this decision on the chin. Deep down I think we all knew something wasn't right. I teach my kids to take responsibility for their actions. As harsh as it is, this decision sends a strong message to the whole league and people who follow it. 12 people will sit the year out, but 12 people who thought they wouldn't get a game can now step up. Back to development and building a clean future. Don't blame WADA or the AFL. Blame the club, accept the decision and move on."
What do you think? Was it the players' fault they took a banned substance? Is it fair that they be banned from the game?
Comments