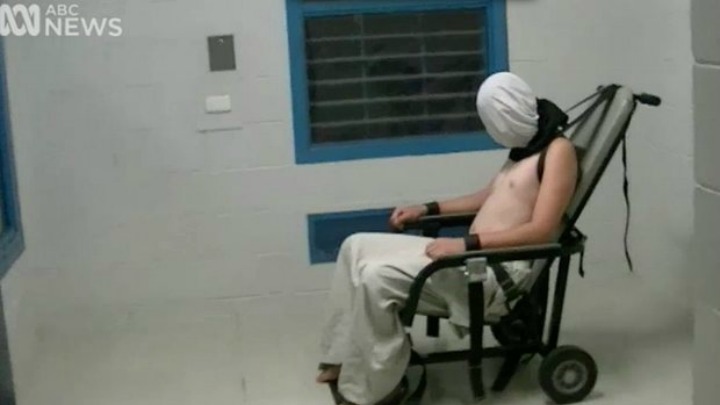 Last night's Four Corners program on ABC aired shocking footage showing the treatment of children at the old Don Dale detention facility in Berrimah, outside Darwin, NT. The footage showed Dylan Voller, then 17, being strapped to a mechanical restraint chair with his head covered by a bag as punishment for threatening self harm.
The vision is part of an investigation featuring a chilling catalogue of footage revealing a pattern of abuse, deprivation and punishment of vulnerable children inside Northern Territory youth detention centres, as reported by ABC.
CCTV obtained by Four Corners shows a prison guard attempting to conceal the CCTV camera in Mr Voller's cell with wet toilet paper before threatening and standing over the cowering boy on August 16, 2014. This incident occurred just five days before Mr Voller was tear gassed along with five other boys on August 21.
Mr Voller's lawyer Peter O'Brien said it was fortunate the attempt at obscuring the CCTV footage was unsuccessful.
Prime Minister Malcolm Turnbull has announced he will establish a royal commission into Northern Territory juvenile detention after revelations raised on ABC's Four Corners program.
The announcement comes after the NT Chief Minister Adam Giles issued a statement stating he was "shocked and disgusted" and also called for a royal commission.
"A community is judged by the way it treats its children and serious questions were raised by ABC tonight," Mr Giles said.
"Equally the Northern Territory Government does not resile from its tough approach to those who don't want to respect other people's property or safety."
Mr Giles said the program had raised questions about "what is going on in our juvenile detention system that date back to 2010".
This morning Mr Turnbull said the royal commission would be held in conjunction with the Northern Territory Government.
"This is a shocking state of affairs and we will move quickly to establish what happened, as Gillian Triggs said last night, this needs a thorough inquiry," he said.
"Like all Australians, I have been deeply shocked, shocked and appalled by the images of mistreatment at the Don Dale Centre," Mr Turnbull said.
"I have been speaking overnight and early this morning with the Chief Minister Adam Giles, with my Attorney-General Senator (George) Brandis, with the Minister for Indigenous Affairs and Northern Territory Senator Nigel Scullion, and also the Human Rights Commissioner Gillian Triggs.
"We will be establishing a royal commission into these events, into this centre; we intend to do so jointly with the Northern Territory Government."
On the ABC's Q&A program on Monday night, Assistant Minister for Industry, Innovation and Science, Craig Laundy, revealed he will be 'talking to the Prime Minister' about the 'abhorrent' treatment of the children in the Darwin detention centre.
'I actually still feel crook in the guts,' Mr Laundy told the program.
'I'm a father of three beautiful children and you do your best to raise your kids, as you know, on the straight and narrow, but unfortunately we need these sorts of facilities because sometimes thing go wrong but you need to make sure that it's a place of rehabilitation'.
Ms Triggs, Australian Human Rights Commission president, said, "If one of us were to have been found to have treated our children in this way we would probably be charged with a criminal offence and the children taken away from us. It's an extremely distressing piece of footage to look at and I have visited many detention centres, sadly, but I have never seen conditions of that kind and I have never seen people treated in that way. I think it's something that, as the experts were calling for, we clearly need some kind of investigation into this."
Some of the boys assaulted in the Don Dale juvenile detention centre were Indigenous. Shireen Morris from the Cape York Institute said Australia had become "used to accepting low standards when it comes to Indigenous kids".
Four Corners has discovered the mistreatment was the basis of a lengthy investigation by the former Northern Territory children's commissioner Dr Howard Bath.
The full investigation was presented to the government in 2012, but it was never publicly released or tabled in parliament.
It details serious concerns about Mr Voller spending extended periods of time in solitary confinement and being the subject of "inappropriate and excessive force".
Dr Bath said the government was warned well before the tear gassing incident that action had to be taken.
"In 2012 the occurrence of this sort of response to young people in detention was made known to the various authorities in youth justice," Dr Bath told Four Corners.
"Specific recommendations in 2012 were made about safer ways to intervene, to provide training, to provide support, supervision for the workers involved so that harm would not occur to the young people."
But the incidents continued.
This raises the question: why have prior inquiries not revealed the extent of damning evidence against the the staff of the facility? This and national outrage is what has sparked the establishment of the royal commision, which will hopefully get to the bottom of it all.
How has this revelation made you feel? What do you think can be done to better the conditions at correctional facilities?
Comments