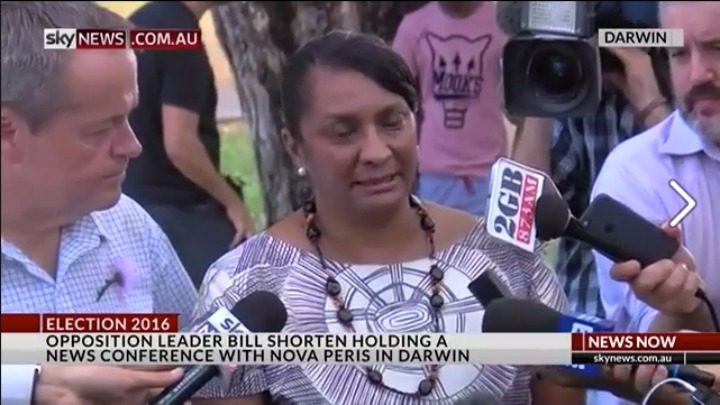 Outgoing Labor Senator Nova Peris has delivered an emotional defence of her decision to quit politics after only a few years in the job.
Senator Peris announced she would not recontest her Northern Territory Senate seat earlier this week, but has faced criticism from the Coalition who accused her of abandoning her constituents.
Ms Peris chose to make the announcement on National Sorry Day and struggled to hold back tears as she stood next to Bill Shorten.
"Three years ago I walked into Parliament as the first Aboriginal woman," Senator Peris said.
"Until you are an Indigenous person, do not criticise me for the decisions I've made.
"I want to make this clear. No one should judge me."
She went on to talk about the struggles many Aboriginal people face.
"It's not easy to wake up every morning and bounce out of bed and pretend that life is fantastic, because it isn't."
Her speech has already sparked debate and a flood of harsh comments online, with some people labelling her as "pathetic".
Others though have jumped to her defence and hailed her for making great strides for Aboriginal people across Australia.
Ms Peris is expected to take up a job with the AFL as head of diversity.
What do you think about Nova's speech?
Share your thoughts in the comments.
Comments