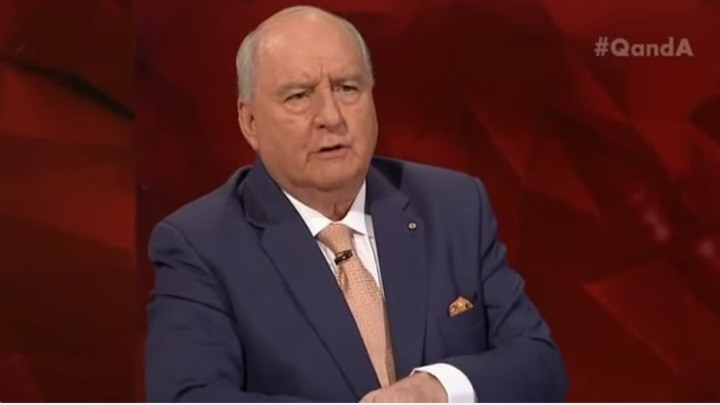 Alan Jones has drawn the ire of both church abuse survivors and the public after defending Cardinal George Pell on Q&A on Monday night.
The radio presenter was responding to an audience member who suggested that Pell should be removed from his position for his lack of sympathy and inaction when it came to abuse within the church.
At first, Jones said the abuse that happened to children in the church's care was "almost too grotesque to even define" and agreed that Pell's handling of the Royal Commission into Institutional Responses to Child Sexual Abuse was "appalling".
However, he went on to excuse the young Cardinal's behaviour, saying he was only 28 at the time and should be cut some slack due to his young age.
"I think there has been a fairly unfortunate focus on Pell in the sense that he was 28 years of age in 1969 when all this happened.
"And there is a presumption in the way in which this has happened that then Pell was the Cardinal and should have done something," Jones said.
"I hope they don't ask us what we were doing at 28 years of age. I can't even remember what I did last Monday," he said, prompting a harsh response from fellow panelist, media commentator Josh Zepps.
"Well, we weren't covering up rapists," Zepps said.
"It's so disingenuous to imply that the structures, the power structures in the church are just sort of accidental and don't serve the people who are in power," Zepps said.
"I tell you what, if there is a higher court, which the church seems to believe in, you would imagine Cardinal Pell is going to have his day."
Federal government frontbencher Michaelia Cash, who was also on the panel, was quick to remind Jones about the facts of the case.
"I think despite what you've said, Alan, about he was only 28 at the time, what we've all seen over the last few weeks, over the last few years … was that complete lack of empathy".
What do you think about Alan Jone's comments? Do you think young age is an excuse for Cardinal Pell?
Comments