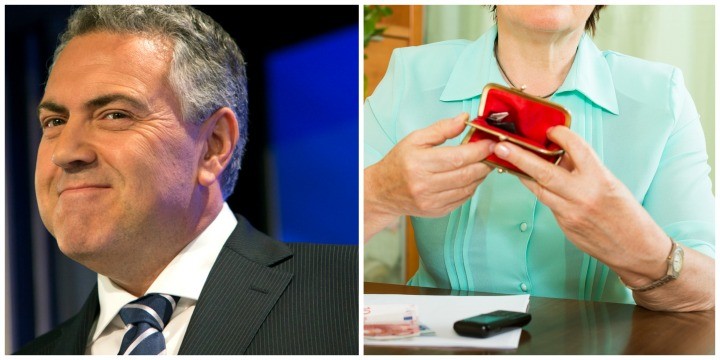 In one of our country's biggest hypocrisies, Aussie pensioners are struggling to visit their families overseas, whilst former politicians live it up aboard.
A new viral photo has pointed out that whilst pensioners get penalised for spending more than six weeks overseas, pollies like Joe Hockey still receive huge pension payments!
Under current rules set by the Department of Human Services, your pension payments can be reduced if you spend more than six weeks abroad.
Adding insult to injury, certain benefits like the Energy Supplement can cease completely, even if you're heading overseas for family or personal reasons.
"Your Pension Supplement will reduce to the basic rate and your Energy Supplement will stop after 6 weeks", says the Department's website.
In a stunning contradiction though, politicians like Joe Hockey are still eligible for a pension of $90 000 each year (yep, you read that right) despite living overseas.
As Australia's envoy to America, Mr Hockey currently receives an annual salary of over $360 000. Not to mention that he will live rent-free in an official American residence!
Joe Hockey has previously accused certain welfare recipients of "double dipping", so his massive pay packets are a slap in the face to everyday pensioners.
Local Labor candidate Pat O'Neill drew attention to this issue with a recent photo, which is going viral online. Mr O'Neill writes:
"When Joe Hockey is living overseas earning a six figure salary and is allowed to claim a pension, but Malcolm Turnbull wants to cut the pensions of hardworking Australians who travel overseas in their retirement, you have to wonder 'who does this guy think he is?'"
Are you wondering the same thing?
Do you think that politicians should be allowed to collect massive pensions, even whilst living abroad? Isn't it unfair that everyday pensioners can't leave Australia for over 6 weeks, without losing money?
Comments