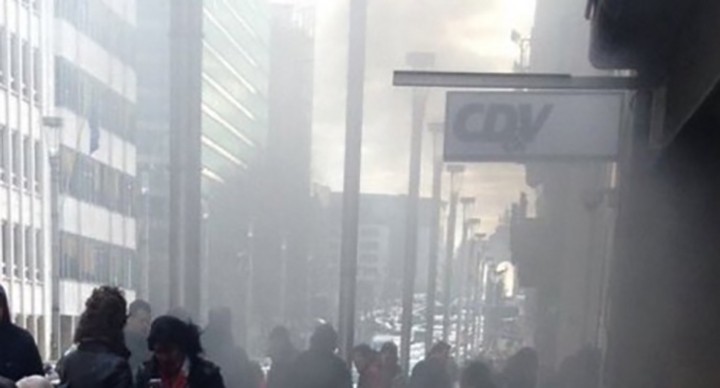 Belgian television is reporting that each least twenty three people have died in the Brussels attacks with 13 dead in the airport and 35 injured and another ten dead in the Metro.
All @Eurostar trains to #Brussels suspended after attacks at airport and metrohttps://t.co/O3W8C2J1dW pic.twitter.com/YUiS5JrC7A

— BBC Breaking News (@BBCBreaking) March 22, 2016
🆘‼ #Brussels is the terrorist state of emergency … other footage of the situation after the #brusselsattack. pic.twitter.com/C3kqJ4ncHM

— Onlinemagazin (@OnlineMagazin) March 22, 2016

——-
A second explosion has now been reported at a Brussels metro station close to EU buildings. The explosion is apparently at Maalbeek station, according to train staff.
A separate explosion has been reported at a #Brussels metro station close to EU buildings. All stations closed: https://t.co/5H3geyjw0E

— BreakingNews.ie (@breakingnewsie) March 22, 2016
Information now in the media:
Two explosions have blasted through Zavantem Brussels airport departure hall. Reports are coming on of at least one dead and stretchers of wounded. The airport has been evacuated and flights cancelled.
Brussels metro is now closed after a separate explosion at Maalbeek metro station near to UN buildings.
Local media reporting shots were fired and there were shouting in Arabic shortly before the airport explosions according to ABC reports. The blasts occurred four days after the arrest of a Brussels' suspect in the Paris attacks.
BREAKING: Dozens taken on stretchers out of #Zavantem airport in #Brussels, say eyewitnesses https://t.co/ko1hjBVeNS | via @CNN

— News5 AKSYON (@News5AKSYON) March 22, 2016
Our thoughts are with those in Brussels tonight.
Pictures emerging from second explosion in central #Brussels this morning. Thoughts are with everybody there. pic.twitter.com/dFPVUmM4fB

— James Tattersfield (@JTattersfield) March 22, 2016
———–
Pictures and new alerts are flowing of a number of explosions at Brussels Zaventem Airport.  At least one report is saying it was next to the American Airlines checking counter says the BBC.
Images on Twitter and other social media channels show blown out glass windows, and television is reporting plumes of smoke.
Niels Caignau, a Swissport employee, told Flemish broadcaster VRT, via BBC: "I was on a break and heard and felt a big explosion – we have from here a view over the departure hall and saw a plume of smoke come out.
"The windows are completely shattered. People went outside in shock. It doesn't look good."
More to come…
VIDEO: Panic & chaos in Brussels airport after two explosions https://t.co/aElFMYNuF5 pic.twitter.com/wgSeqVLOO5

— RT (@RT_com) March 22, 2016
Shattered windows showing force of explosions at Brussels airport @9NewsBrisbane pic.twitter.com/XpAgEvSYqC

— Sophie Walsh (@sophie_walsh9) March 22, 2016
Two loud explosions have been heard at a #Brussels airport which is being evacuated.https://t.co/ceGYHEjcAu pic.twitter.com/duO69HK7Gy

— 7News Yahoo7 (@Y7News) March 22, 2016
Images have emerged following two loud explosions heard at Brussels airport pic.twitter.com/5lWcJI8WOP

— Sky News (@SkyNews) March 22, 2016
Comments