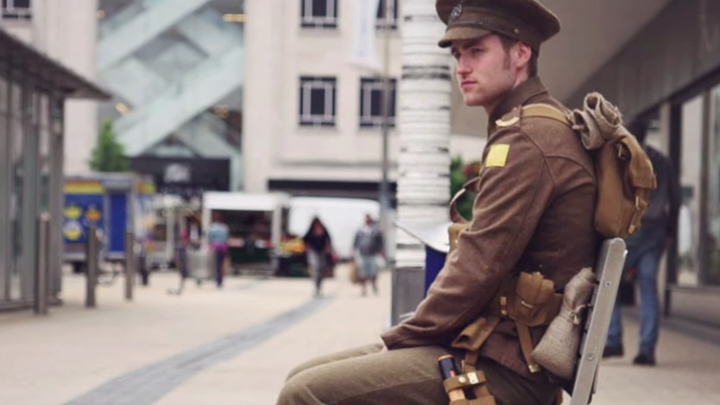 There have been many touching tributes to the fallen soldiers of Battle of the Somme. While there have been many eyes on The Royal Family's tribute, a Turner Prize-winning artist has created a human memorial that is taking the world by storm.
When the first images of men dressed as World War I soldiers at Waterloo Station in London, many thought they were perhaps going to a re-enactment or some tribute service. These weren't your ordinary commuters as the men didn't speak, weren't moving. They waited expressionless for something, but no one knew what. Crowds formed around them taking pictures and when a woman asked them what they were doing one of the men silently handed her a card that read "Lance Corporal John Arthur Green, 1st/9th Battalion, London Regiment (Queen Victoria's Rifles). Died at the Somme on 1 July 1916. Aged 24 years."
This scene was repeated all over the UK as 1,500 men marched all over cities in a silent tribute that has finally been revelled as an art tribute by artist Jeremy Deller. Deller was commissioned to do the work to help mark the centenary of the first day of the Battle of the Somme. Deller told The Guardian "I quickly realised that what I didn't want was a static memorial that the public went to to be sad." Deller continued "In the 21st century I felt we had do something different. So I thought about the memorial being human and travelling round the country. It would take itself to the public rather than the public taking itself to the memorial."
Over a one-and-a-half million lives were lost in the Battle with the UK suffering over 350,000 casualties with Canada and Australia suffering almost 25,000 casualties a piece. The world pays tribute, and the artwork that Deller has created showed people around the world that these figures are not just numbers on a page but faces, people who fought and lost their futures.
What did you think of the tribute? Do you think that something like this would have worked in Australia? Did your family lose someone in WWI?
Comments