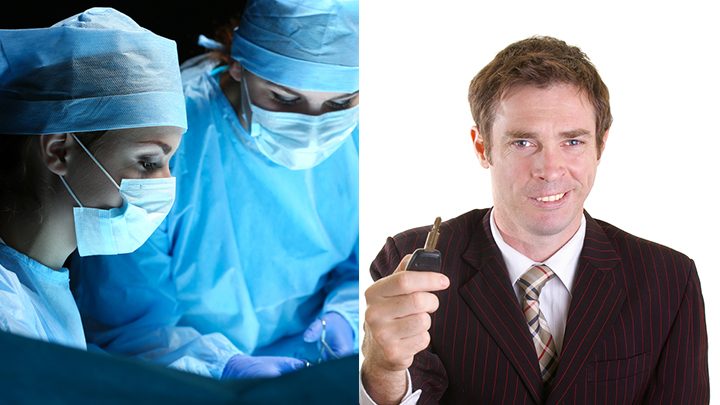 The idea of trust is a strange one. Most of us are willing to place our lives in the hands of a doctor, but wouldn't believe a word an insurance salesman says.
Which is why the annual Roy Morgan Image of Professions Survey is always so fascinating: it's a glimpse into how our minds work; how willing we are to judge a person's trustworthiness based on their work.
Nurses take out the top position, which they have held without fail for the 22 years since they were introduced to the survey.
Car salesmen, on the other hand, have ranked at the bottom for the past 35 years.
While the first and last places are far from surprising, there have been some interesting changes from previous years.
Nurses
Pharmacists
Doctors
Engineers
School teachers
Dentists
Police
High Court judges
State Supreme Court judges
University lecturers
Accountants
Public servants
Lawyers
Ministers of Religion
Public opinion pollsters
Bank managers
Financial planners
Directors of public companies
Business executives
Talk-back radio announcers
Newspaper journalists
TV reporters
Federal MPs
State MP
Stockbrokers
Union leaders
Insurance brokers
Real estate agents
Advertising people
Car salesmen
Some of the most interesting changes are the result of recent scandals in the news. Ministers of Religion dropped four points and hit a record low.
Social commentator Bernard Salt told The New Daily this was a likely the result of the recent royal commissions into corruption and sexual abuse.
"It's a shame because I think the overwhelming majority of religious ministers do a great job. But unfortunately the behaviour of some over the years has tarnished the entire profession."
Bank managers have also fallen considerably from Australia's graces.
Meanwhile, police, engineers and university lecturers have all risen this year.
Mr Salt said the high rankings for health professionals made perfect sense.
"At the top of the list has got to be the professions that you're entrusting your life to, or your wellness to," he said.
Do you agree with these rankings? Which profession do you see as the most trustworthy? And which do you trust the least?
Comments