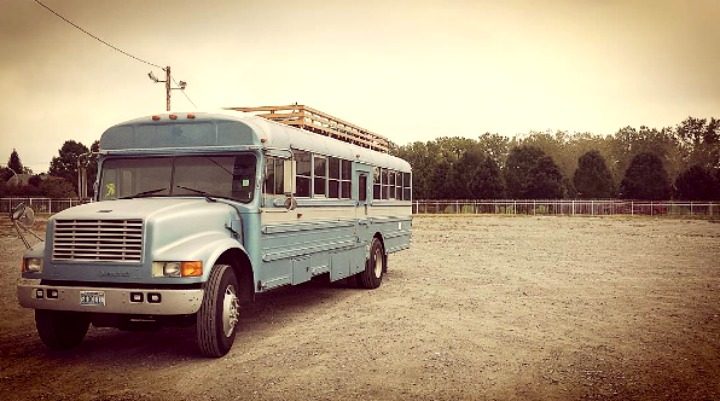 Most people would not see the potential in old vehicles, let alone a school bus; but not for Patrick Schmidt.
When Patrick was unemployed and living in California, he found a used 1990s school bus and decided to buy it.
What he didn't know was how the $4,500 old vehicle named Big Blue would eventually change his life.
Patrick, who goes by Skoolielove, purchased the old bus and spent three months plus $9,000, working with his dad to convert it into a motorhome. They added a dining table, storage cabinets, a counter top, a fridge and a bed. The result is a cosy tiny home with wooden finishes and classic fabric prints. "My dad and I did all the work ourselves, sourcing mainly Home Depot and Amazon," said Patrick.
Patrick then went on a 10,000 mile journey explore America, its big cities, and its little towns. "Meet the everyday person. Meet the special, extraordinary people," said Patrick.
"My plans are to stay in Florida until March, then most likely find my way back slowly to Vegas, and up to Seattle to live again for a while," Patrick told Metro UK.
"Find some land to park on. That's kind of the life I've imagined for myself. Ride around, travel, find temporary work, and see where to go from there."
Patrick says, "Love is about spreading positivity, being compassionate, and caring about yourself and the world around you."
"You matter. Your actions matter.
"Being conscious of what you do, what you say, how you act, how you behave, and what impact your mood and attitude has on your life. As well as the impact on the Earth we all share.
"I felt like downsizing my home and the amount of stuff I have, while living on a school bus, would allow me to figure out what I'm looking for. I may have found it," said Patrick about his new life on the road.
What do you think of Patrick's new house-on-wheels? Would you travel around in something like this?
Comments