Why Scandinavia should be on your bucket list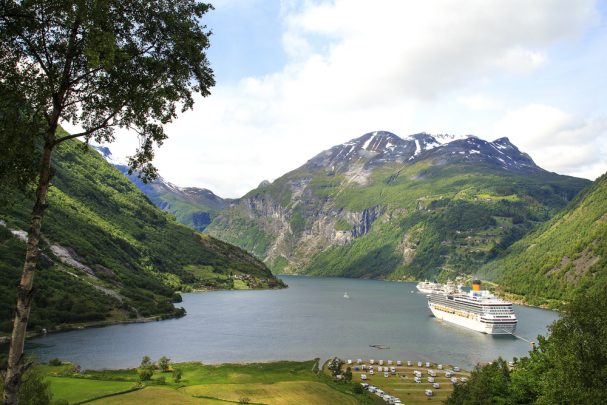 From brightly-coloured night skies and winter landscapes, to art museums and fancy food combinations, Scandinavia is a region in the north of Europe made up of a group of countries including Norway, Sweden and Denmark. Here are some of the wonderful things to see and do in the region, and reasons why Scandinavia should be on your bucket list this year.
Read more: Baltic adventure and spectacular Scandinavia
1. The Northern Lights
Ad. Article continues below.
Also known as the Aurora Borealis, the Northern Lights appear in the night sky throughout September to April when electrons hit air particles on the Earth's magnetic field. If the Northern Lights are on your bucket list, then Scandinavia is one of the best places see them.
2. The Geirangerfjord
Ad. Article continues below.
Located in Norway the UNESCO protected reserve is home to snow-covered mountains, waterfalls and incredible green landscapes that a photo just won't do justice.
3. Pickled herring
Pickled herring is a Nordic favourite, so you simply cannot visit Scandinavia without digging into this dish. They're usually served with rye bread, sour cream and potatoes.
Ad. Article continues below.
4. Hot thermals
Ad. Article continues below.
The hot thermals in Iceland are one of the best ways to de-stress and unwind. Simply sit back, relax and allow the warm waters wash away any of your worries. 
5. Explore Denmark's castles
Ad. Article continues below.
Allow yourself to become immersed into royal Danish history by exploring some of the most lavish castles in the country. You can even visit the homes of  Crown Princess Mary and Crown Prince Frederik!
6. Whale watching in Iceland
Whale watching tours are available from Reykjavik if you want to see some wildlife while in Scandinavia. They depart from the Reykjavik marina.
Ad. Article continues below.
7. The beaches
A bit of warmth can be found in Scandinavia, it's not all snow-covered mountains. There are some beautiful coastlines in the region including Böda Beach in Sweden, Horseid Beach in Norway and Hietaniemi Beach in Finland.
8. Skiing
Ad. Article continues below.
But if you prefer the cooler weather activities, there are many options for ski bunnies in Scandinavia. Some of the best resorts can be found in Norway, Finland and Sweden.
9. The Atlantic Ocean Road
Ad. Article continues below.
This 8.3km stretch of road provides some of the most incredible views of Norway. But with roads like this, it's definitely not a trip for the faint hearted.
10. Gullfoss Waterfall, Iceland
Ad. Article continues below.
Known as the Golden Falls, Gullfoss is a waterfall in the south west of Iceland, and the average amount of water that rushes through this waterfall during the summer is 140 cubic meters per second!
Has this inspired you to visit Scandinavia? Let us know in the comments section below.