We've discovered an exciting new reason to visit Italy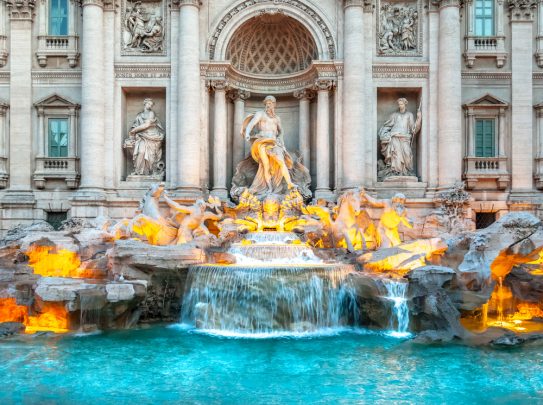 If there's one thing to love about Italy, it's the gastronomy. Food and wine is such a big part of the culture, that a visit would be incomplete without eating your weight in pasta, which, of course, would be accompanied by your favourite vino.
Wine, in particular, is a staple at the dinner table and now they're giving it away. Quite literally. According to Conde Nast Traveler, there is a wine fountain that has been installed at the Dora Sarchese Vineyard along the popular Cammino di San Tommaso, a trek from Rome to Ortona.
To provide a warm welcome to the pilgrims who make their way through the town during their journey, a fountain of wine has been installed. Let's just allow that to sink in for a moment: a fountain of wine. And even more exciting than that, the wine is free and available 24/7.  
Read more: Tourists warned to visit Michelangelo's David before it's destroyed
Ad. Article continues below.
Italy is famous for its fountains, but it has to be said that this would have to be one of the best. Yes, perhaps even more impressive than the Trevi Fountain. Perhaps.
The wine fountain was inspired by a similar one found along the Camino de Santiago in Spain. But if you think you can rock up and drink up without any consequences, think again. The vineyard has a very strict rule, saying that it's not intended for "louts" or "drunkards".
"The wine fountain is a welcome, the wine fountain is poetry," the vineyard wrote on its Facebook page.
So, sincere wine lovers, get ready, and be on your best behaviour because this is one of the only ways you'll see water turned into wine. 
Have you ever had a glass of wine from this fountain in Italy? Let us know in the comments section below.