Welcoming Flight Centre Travel Group to Travel at 60 Deals Club to bring you a better deal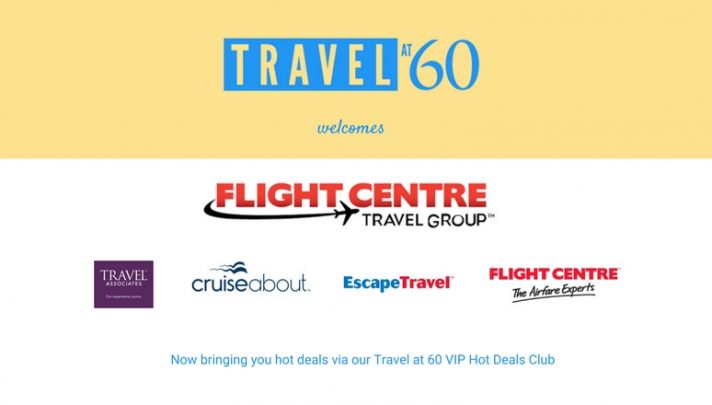 We told you that the good deals would arrive if we all joined together in one travel group and used our travel dreams and collective buying power to drive a better deal.  And today, I'm delighted to tell you the great deals are about to get even better!
We're excited to announce today that Travel at 60 is welcoming Flight Centre Travel Group's core leisure brands alongside others, to bring you a great deal on travel through the Travel at 60 Hot Deals Club [sign up here now, free].
The exciting, non-exclusive partnership will see the major retail brands of Cruiseabout, Escape Travel, Travel Associates, and Flight Centre provide deals actively to our travel community that is growing quickly online and with great passion for travel and have them become more aware of your needs.
Each of the brands will be using our unique technology to post their deals to the site in real time, aggregating them among other brands in your own trusted place The Travel at 60 Hot Deals Club.
Ad. Article continues below.
I'm excited to say that our community is the clear winner here as you get a great deal and will now have a place to go first when buying cruises, tours and package holidays that simplifies the wide variety of complex travel options.  And we're working hard to just keep on improving it day by day. 
We want our community to be able to choose the right retail or wholesale brand to buy their travel from for the type of holiday they seek and get timely deals on hot travel offers via email, social media or social alerts, but not be bombarded with the mixed messages of millennial travel brands which dilute traditional and travel media today.
We know you want something more special than the mainstream, travel that takes in the best places and the most interesting experiences available, but still comes at a great price. 
Flight Centre Travel Group is the largest travel retailer in the Australian marketplace, and bring their leisure brands Cruiseabout, Escape Travel and Travel Associates each of which have different and compelling travel offers that are specific to the demands of a changing and far wider travelling older generation than ever before. 
And the important thing about working with them is that you can still work with them to customise an offer, stopping over in other places, or changing an itinerary to suit your individual needs, which is so commonly demanded by our community but hard to get in online travel. 
Ad. Article continues below.
We're working hard with all of the brands on our site to bring diverse and interesting travel options.  This includes offerings for singles, couples, families and groups.  These will continue to expand based on how many of you take them up.  We're focussed on bringing travel that people want.  How will we know?  It is pretty easy for us to tell if you like something – you click on it or enquire about it! 
We're excited about this partnership, and the Flight centre brands are excited too, knowing you are here, keen and hungry to travel.
"Baby Boomers represent some of our most travelled customers so this is the perfect opportunity for our brands to connect with this growing market to provide exciting and compelling travel offers that match their demands and growing desires," said Monique.  
We invite you to sign up now for Travel at 60's Hot Deals Club.  The deals are getting better and better every week. 
CLICK HERE TO SIGN UP FOR THE TRAVEL AT 60 HOT DEALS CLUB NOW