The travel experience that can never be caught on camera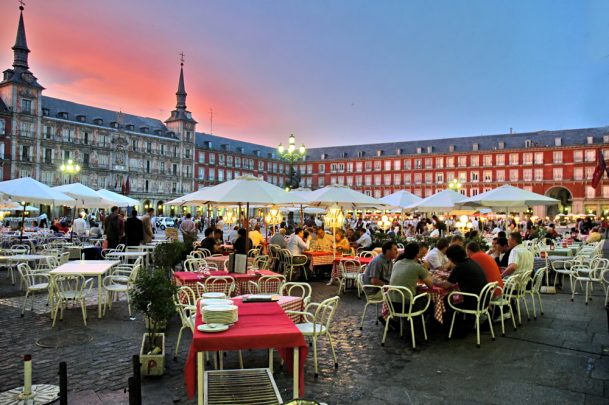 The minds eye is a wonderful concept. It is described as our ability to form mental images of things or events. It is so powerful that the memory can last forever – a whole lifetime. A special moment that will last forever unless you have a camera blocking out your "view". A recent trip to Spain got me thinking of what we have lost.
The Plaza Mayor in the heart of Madrid is like a massive open air theatre. Stunningly beautiful, its atmospherics are intensified by a four-century history of bullfights, inquisitions, executions and pageantry. Enter the plaza through any of its nine gates and you are suddenly on centre stage, surrounded on all four sides by classic three-storey residential apartments, built in a time when beauty rather than function mattered.
The Plaza Mayor is an example of why we travel. We experience the joy of immersing ourselves into the soul of another place, away from home and the normal burdens of life. It is a sensual experience in its true meaning; sounds, tastes, smells, sights, even touch are all brought into play and everything comes alive. It's an opportune time to reflect, not think about the future or the past, but live in the present. Just be.
Throw into this heady mix an extra dimension – the Spanish Royal Guard Bands, both mounted and on foot, celebrating Independence from France on May 2nd over 200 years ago. Napoleon was finally rebuffed and the people of Madrid still celebrate in style.
And so it was on that date recently that my travelling companions had booked one of the outdoor tables that ring a section of the cobblestoned arena, looking for nothing more than a good Spanish feed in a magnificent location. We were retracing our steps from a previous night so I chose not to take my camera. Nothing was going to happen, why bother? But this was no regular night. The Plaza had turned into a fenced parade ground and the locals were out in force. We were escorted to our ringside tables just as the bands were about to enter through the western gate.
Ad. Article continues below.
Initially I regretted not bringing my camera, thinking of the memories I would miss. Already the flashes were lighting up the night sky as the first waves of strident military music burst onto the scene. It was then that I had my awakening. How could I really get into the spirit of a place; how could I really sense the pure energy and emotion if my focus was distracted by taking photographs? While everyone else, or so it seemed, was happily snapping away at the Guardsmen and their perfectly groomed horses, I sat back and decided to soak it all in.
Read more: A Test of spirit in the foothills of the Himalayas
This moment in the Plaza Mayor could never be captured on a camera, movie or still. It was a total 360-degree moment, which might be simulated in a movie, but totally different. The camera can fool us. It takes us from the present and places us into the future, waiting to get home and look at where we have been or showing others. But it actually stops us from really being there.
Like anything, travel will never be the same as it once was. Wherever we are we seem to keep one foot firmly planted back at home. With camera, mobile phones, iPad's, ringing, texting, Wi-Fi, we stay connected. You can't even get lost – your GPS will get you home — or at least back to your hotel.
On Plaza Mayor, I shut my eyes and listened – really listened. I heard sounds that were not apparent with my eyes open. I heard individual sounds whereas previously I had heard the mass of sound. I heard sounds coming from different directions. I heard the pitches of sounds. No camera could capture these non-visual tones, the individual notes, not just the music but also the clip-clopping of horses on the cobblestones. Stunning.
Ad. Article continues below.
The massed bands began to leave the plaza and came right past our table. All around, cameras were madly clicking but I just watched. I watched the horses with drums draped over their necks and was amazed at how calm they remained, heads pointed towards the night sky, as the reverberations of the beating rang in their ears. I watched the trumpeters and the drummers and all the bandsmen, strikingly uniformed, strikingly disciplined. I could look into their eyes but their eyes never wavered. I watched as they exited stage right, heads perfectly still, in brilliant formation, leaving a shiver running through my body.
I had discovered the art of travel again. Photos and images are important, they remind us of the people, places and experiences we have had, but we should be careful to make sure they don't replace (or ambush) the experience itself.
My story is my picture of that night in Plaza Mayor.
Will you be leaving your camera at home on your next holiday? Let us know in the comments section below.