Tragic Thai jet ski accident a deadly reminder of holiday dangers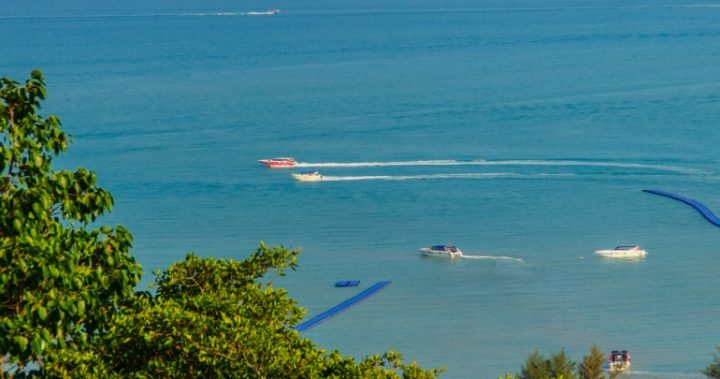 You picture yourself cruising along the beach esplanade on a moped, the wind blowing in your hair, the sun on your bare legs. Or ploughing through the salty waves on a jet ski, plunging down a waterfall as you kayak through the jungle, or pounding over the dunes on horseback.
The lure of adventure is hard to resist when you're on holiday. But jumping on a motorbike, scooter or jet ski or signing up for adrenalin-pumping activities can prove at best costly and at worst very dangerous.
The case of young Australian couple Emily Jayne Collie and Thomas Keating is a harsh reminder of those dangers. Collie died and her boyfriend Keating faces the possibility of being charged with reckless driving after their jet skis collided at Kata Beach in Phuket, Thailand, on Sunday. Australia's Department of Foreign Affairs and Trade is currently providing consular assistance to Keating and his family.
The Phuket News reports that Thai police fined six jet ski operators at the same beach for operating without insurance after the accident. But the Phuket Gazette warns that despite numerous deaths and injuries involving jet skis at the beach over the past 20 years, "there has been no success in shutting down the jet skis – or even curtailing or simply regulating their use."
The Australian Government's Smart Traveller website warns against the risks of hiring motorised vehicles in Thailand, including the many serious accidents involving jet skis and motorcycles in Thailand.
Ad. Article continues below.
"Foreigners are regularly detained and arrested by police following jet ski and motorcycle accidents until compensation, often thousands of dollars, can be negotiated between parties," Smart Traveller says. "Many vehicle hire companies do not have insurance and any damage, loss, or costs associated with injuries to third parties will be your responsibility to negotiate or pay."
Read more: 5 ways retirees can save money on travel insurance
In such cases, the Australian government is unable to get you out of jail or assist in compensation negotiations, and merely provide a list of lawyers for you to contact. 
But these are risks in Thailand and other popular holiday destinations that many Australian adventurers aren't preparing before boarding their flight, a survey by Quantum Market Research shows.
Less than half of the holidaymakers who took part in water sports such as jet skiing or water skiing on their most recent trip checked the fine print on their travel insurance policies before hitting the waves. Only 53 percent of the vacationers who rode a motorbike or moped did the same.
Ad. Article continues below.
Campbell Fuller, a spokesman for Understand Insurance, part of the Insurance Council of Australia, explains that not all insurance policies cover the use of motorised equipment. Some policies also exclude activities such as sky diving, horse riding, skiing and bungee jumping.
"Those policies that do will typically only cover policyholders who have an appropriate vehicle licence and are wearing a helmet, and may have restrictions on engine size," he cautions.
Fuller advises travellers who intend to hire motor vehicles to check with their insurer on what restrictions apply. And don't ignore government warnings, he says.
"Your policy may not cover claims made in countries where the Department of Foreign Affairs and Trade recommends against travel," Fuller adds
Do you tend to take part in more reckless activities when you go on holiday? And do you make sure you have the right insurance before you go? Let us know in the comments section below.