This Queensland island could be Australia's best kept secret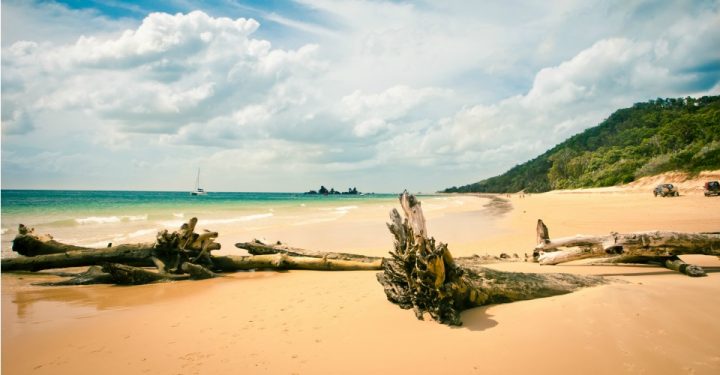 No doubt you've heard of or visited popular Queensland islands such as Fraser Island and Hamilton Island.
But there is one island that's becoming increasingly popular, and it could just about be one of Australia's best kept secrets.
Moreton Island, off the coast of south-east Queensland, has everything you could want from an island paradise – from hand feeding wild dolphins to snorkelling and scuba diving in shipwrecks.
And the best thing is, the island is just a 70 minute ferry ride from Brisbane!
There is so much you can do on Moreton Island, but here are 8 of the best things to see and do while you're visiting.
Ad. Article continues below.
1. Tangalooma Wrecks
These 15 rusty ships were intentionally sunk off the shores of Moreton Island more than 50 years ago and have become a popular attraction for tourists. Whether you want to snorkel amongst the sea life in amongst the wrecks or just photograph them from the beach, they're a must-see on a trip to the island. 
Ad. Article continues below.
2. Whale watching
Ad. Article continues below.
Moreton Island offers great vantage points to watch the migration of humpback whales along the Queensland coast between June and November. You can either try your luck watch the whales from the shore or you can take a whale watching cruise and get up close with the gentle giants of the sea.
3. Honeymoon Bay
Ad. Article continues below.
If you're a beach person, Moreton Island has plenty of beaches for you to enjoy. But one of the ones that stands out is Honeymoon Bay. The crescent-shaped beach is 50 metres wide, and is surrounded by rocky hills and bush. The sheltered beach has gorgeous crystal clear water, great for taking a dip on a hot day!
4. Champagne Pools
Ad. Article continues below.
Named after the way the water sparkles like champagne around the rocks, the Champagne Pools are a popular attraction for tourists visiting Moreton Island. They volcanic rock on the beach creates excellent little rock pools as the waves crash on them.
Read more: 5 Queensland islands perfect for a short break
5. Cape Moreton Lighthouse
Ad. Article continues below.
If you want to get a great view of the ocean from Moreton Island, then the Cape Moreton Lighthouse is the place to be. The lighthouse itself is more than 150 years old, but it's not the only attraction. From the lighthouse you'll be able to look out to sea and spot dugongs, dolphins and whales.
6. Dolphin feeding
Ad. Article continues below.
 One of the highlights of Moreton Island is the free dolphin feeding at Tangalooma Island Resort. Just as the sun goes down, a group of as many as 10 dolphins come up to the jetty and you can hand feed them. It's a very popular activity for visitors, but it's only something you can do if you're a guest of the resort.
7. Harper's Rock
Ad. Article continues below.
If you're up for something a little out of the ordinary, then Harper's Rock might be the place for you. At the base of Cape Moreton is the alien-like landscape of Harper's Rock. These red sand rock formations are like something you'd see on Mars or an exotic desert somewhere. Why not climb amongst them and get some great photos to remember your trip?
8. Historical sites
Ad. Article continues below.
There is plenty of history to explore of Moreton Island. From the many shipwreck sites around the island to the historical graves of two children and the military history, there's plenty to see. Of particular interest is the remnants of the military sites on the island. Moreton Island played a key part in Australia's coastal defence during both of the World Wars and today there is still bunkers, shelters and gun batteries on the island.
Have you ever been to Moreton Island before? Is Moreton Island on your bucket list?