This is not your ordinary 'holiday park' experience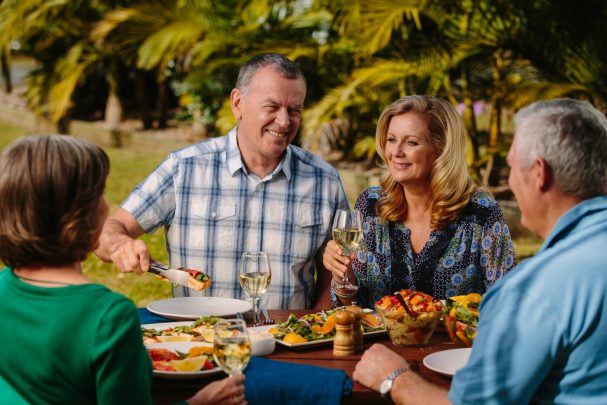 Gone are the days of stuffing everything but the kitchen sink into the back of the car, hitting the road and finding yourself grateful for a campsite with nothing but a basic amenities block and a nice view, if you're lucky.
Now, holiday parks include state-of-the-art entertainment hubs where families bond over brekky in outdoor dining facilities that would put a restaurant kitchen to shame. They're where empty nesters meet to share their stories of months on the road, and where couples come to escape the hubbub of everyday life.
Central to this change is BIG4 Holiday Parks, which has been helping Australian families enjoy a great Australian break since 1979. And now, with more than 180 locations around the country, BIG4 is inspiring people to experience holiday parks in a new way.
Wine lovers will welcome the opportunity to wander through gorgeous wineries in the Adelaide Hills, just a hop, skip and a jump away from Hahndorf Resort Tourist Park. It's just one of many BIG4 parks that you'll find within arm's reach of an award-winning wine region.
Others might be more comfortable in the high-ceilinged, multi-bedroom cottages in The Whitsundays, complete with air-conditioning and a minibar ready to be filled with a bottle of bubbly.
Ad. Article continues below.
Nature enthusiasts will be happy to know that some of Australia's best natural reserves are within a quick stroll of many BIG4 Holiday Parks, including Freycinet in
Tasmania, Great Otway along Victoria's Great Ocean Road, and the towering trees of South West Western Australia.
For those who want to 'rough it' in the wilderness, then channel your inner Russell Coight while surrounded by bushlands in Katherine, Alice Springs or Darwin in the Northern Territory.
If hitting the slopes in winter is more your thing, immerse yourself in the fantastic facilities of BIG4 parks located near Australia's premier ski fields. Jindabyne is just 30 kilometres from renowned Perisher and Thredbo while Bright is a great base when tackling the snow-filled terrain of Mount Buller and Falls Creek.
For those who have kids or grandkids in tow, the BIG4 parks with onsite water parks – some of the biggest of their kind – will get the little ones excited. These combine with the likes of inflatable jumping cushions and games rooms that will tire out even the most energetic of kids.
If a great holiday is more about the journey than the destination, then the quintessential Australian road trip will be a family favourite. From the Legendary Pacific Coast through New South Wales and Queensland to Tasmania's Great Eastern Drive, some of the world's most beautiful scenic paths can be found in Australia, and the many BIG4 Holiday Parks dotted along the way make finding a great place to stay a simple task.
Ad. Article continues below.
It doesn't matter if you're settling in for the night or extending your stay for a lengthy adventure, BIG4 Holiday Parks not only have the facilities for both comfort and fun, but are surrounded by some of the most beautiful areas in the country.
So, the next time you think of going on a holiday, why not do it with BIG4 Holiday Parks? Take a trip away from the ordinary on your next big adventure.
Click here for more information about how to plan your perfect Australian getaway with BIG4 Holiday Parks.
Have you stayed at a BIG4 Holiday Park before? Tell us what memories you made.