Things to do on the Great Barrier Reef if you don't want to get in the water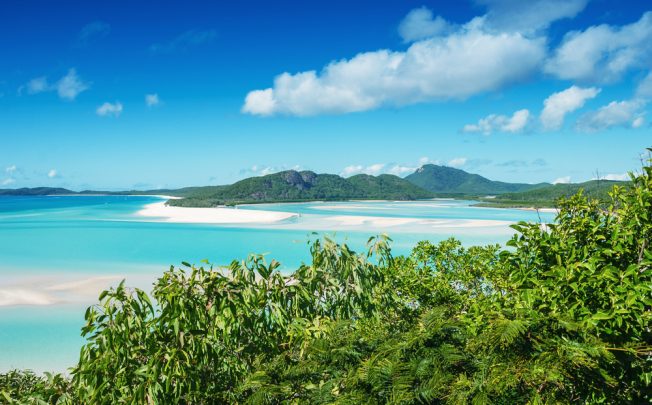 The Great Barrier Reef has been named the most value for money destination in the world. But with news of two French tourists losing their lives while doing a snorkelling tour of the Great Barrier Reef, it has some people, especially those with medical conditions, if they should get into the water. If you do want to visit the Great Barrier Reef, but aren't a fan of scuba diving or snorkelling, then take a look at these activities you can do without even getting into the water.
Read more: 8 of the most beautiful beaches in Queensland
1. Helicopter ride over the Whitsundays
Just because you don't want to get into the water, doesn't mean you can't get a great view of the reef. If you jump in a helicopter ride over the Whitsundays you'll arguably have the best view in the house.
2. Speedboat through Port Douglas
Ad. Article continues below.
If you want to get your heart rate up, then a speedboat ride through Port Douglas is sure to get the adrenaline pumping. Port Douglas is known for its scenic beaches and coastal resorts, but that will whiz by on the back of a speedboat.
3. Watch the turtles hatch on Heron Island
You don't have to leave dry land to see sea life come alive. Take a trip to Heron Island and you can watch as hundreds of Green and Loggerhead turtles head to the island to breed, often for the first time in 30 years since they hatched there.
4. Do a cruise through Agincourt Reef
A cruise out to Agincourt Reef is popular with the scuba divers and snorkelers but the view is just as impressive from the boat. While everyone else is in the water, you can stay aboard, take advantage of some sun and take in the view of the reef from the deck.
Ad. Article continues below.
5. Go bushwalking on Hayman Island
Hayman Island may be known for its beaches, but there are also incredible bush walks that make the most of this idyllic beach setting. Take a 90-minute walk up to Dolphin Point and take a seat in 'God's Arm Chair' to take in the beautiful views.
6 Lay on Whitehaven Beach
Once you've had enough of all the high energy activities, it might just be time to roll out your towel, slop on some sunscreen and relax on a beach on Whitehaven Beach.
Do you have any other tips for things to do on the Great Barrier Reef if you don't want to get in the water? Let us know in the comments section below.