Space-saving tips to make your caravan feel huge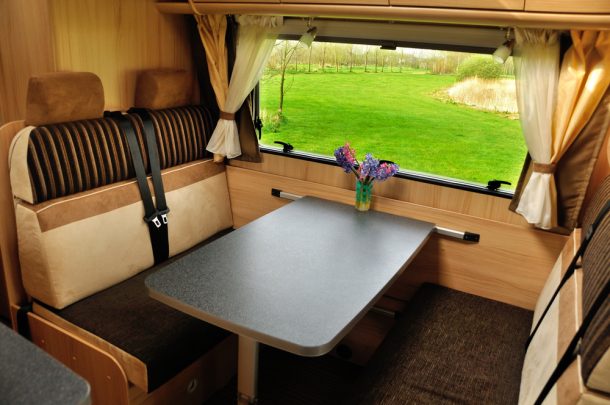 Caravans and motorhomes have become our personal castles on wheels. But just because we want the creature comforts from home, doesn't mean they have to come on the road with us. Not only are the spaces much smaller, but you have to get a lot more creative with how you store and pack your belongings. If you are thinking of hitting the road, but are worried about how to make your caravan fit for a king (or queen!) then take a look at these tips to help you make the most of your space.
Read more: Reminiscing about road trips and how the love affair began
1. Make the space look bigger
There's nothing more simple than tricking yourself into thinking your caravan looks bigger than it actually is. And you can do this in a variety of ways. One way is to use mirrors wherever possible. Not only will this make the space look bigger because of the reflection, but it will also make it appear lighter and brighter, too. 
2. Invest in collapsible furniture
Ad. Article continues below.
If you haven't yet discovered the joy of collapsible furniture, then you're missing out. Basically, they're items that can be a perfectly good bed at one moment and then a wall fixture the next. Beds that become dining tables are the common collapsible furniture option in caravans, but there are also other fold-away options that mean your practical, everyday use items can be carefully tucked away out of view until you need them. 
3. Nesting products
Nesting products are well known for coming handy on camping holidays, but the same goes for your road trips. Salad bowls, cups and even cutlery are designed in a way that they fold away nice and neatly, saving you space in your caravan or camper van for more important things. "They not only prevent you unnecessarily wasting space but they are convenient items to locate when it comes to cooking or baking," says Big4 Holiday Parks. 
4. Get creative with space
Just because there's a dining table in one area, doesn't mean that it can't double as a perfectly good bedroom. And the same goes with your storage solutions. Simply attach shoe racks into the inside of cupboards and give your spaces two jobs instead of one. 
Ad. Article continues below.
5. Look up
One of the most forgotten storage areas in a caravan or campervan has got to be the ceiling area. Instead of leaving this space empty, it can be used to properly store a whole variety of necessary items that you simply can't bear to travel without. "Use it to hang shelves or even wardrobes. Hanging wardrobes have to be one of the most inventive space-saving solutions going around," says Big4 Holiday Parks. "You can also attach brackets to ceilings to hang items such as brooms." Genius!
Do you have any other tips that can help you save space in a caravan? Let us know your tips in the comments section below.