The one thing to look for when searching for airport food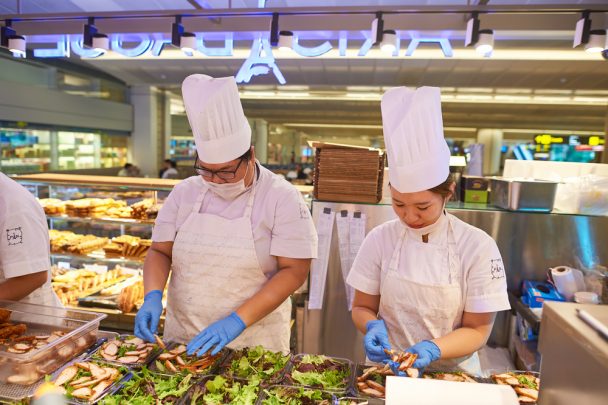 Image: Workers at a cafe in Singapore Changi Airport, Sorbis / Shutterstock.com
Whether it's unhealthy food from fast food chains, overpriced sandwiches or an overwhelming amount of restaurants to choose from, it's not always easy to find the best place to eat at an airport. A lot of people aren't such big fans of the food served in-flight either, so what to do?
It makes sense that those who often visit the airport know the best places to eat. Take cues from the experts on where to get the best food by observing where flight attendants, pilots and airline staff eat.
Read more: The clever hack to use when travelling with someone else
If you see a crowd of air hostesses and hosts eating at a particular restaurant or café, chances are the food is fairly decent, healthy and affordable.
Ad. Article continues below.
Staff who work at the airport in different retail stores, and even staff who work in different restaurants, give a good idea of where to eat as well – after all, they have had ample time to check out the best places to eat at the airport.   
Read more: Get your lost luggage back fast by packing this one item
Airports that are internationally renowned for their fantastic airport food are Japan's Narita airport, London's Heathrow and Singapore's Changi Airport. 
At Narita, you can expect mouth-watering sushi as good as any you would have in a Japanese restaurant, especially at Sushi Kyotatsu. Located in terminal one, this store serves mouth-watering sushi platters and sashimi bowls. 
Chef Gordon Ramsay famously said he would never eat food served on a flight, but often eats at his own restaurant Plane Food at London's Heathrow. It's a restaurant and bar with a modern menu, with picnics to take on board. The restaurant is undergoing some changes and looking for new staff, which one can only have high hopes for.
Ad. Article continues below.
Changi Airport in Singapore – popular as a holiday destination and for stopovers – is Anthony Bourdain's favourite airport to eat at, according to The New York Times. It has a food court that's intended for the employees, but it's also open to the public.
So, like we said – follow the airline and retail staff at the airport to find the best places to eat. 
Do you eat at the airport or on the plane? Let us know in the comments below.