The guilt-free guide to 'stealing' from hotel rooms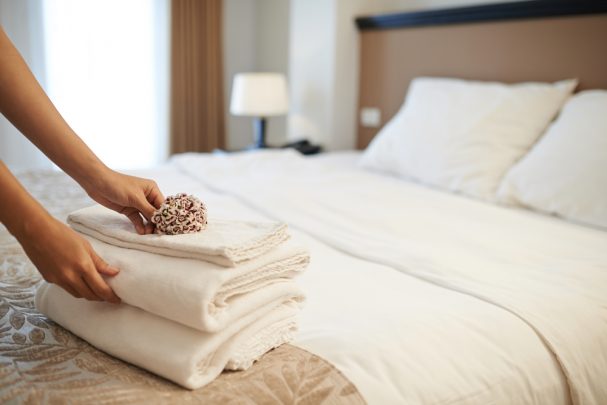 From the moisturiser in the bathroom to the bottle of milk in the fridge, it's the creature comforts that make a hotel really feel like an experience, rather than just a place to sleep for the night.
But what are the rules when it comes to taking items from a hotel room? Is it expected that toiletries will be taken home, or is it rude to assume so? We investigate so you don't have to feel bad about "stealing" from a hotel room ever again.
Read more: The ultimate toiletries checklist (with printout!)
Toiletries
According to Travel at 60 reader Barb, hotel staff informed her that toiletries are absolutely fine to take from a hotel room.
Ad. Article continues below.
"[I] was told many years ago by hotel staff, 'You may as well take toiletries because we just throw them away when we clean and clear the room'," Barb says.
"And yes, they are factored into the cost of room whether you use them or not."
Half-used toiletries can't be used by the next guest, either, so if you've already opened them, you might as well take them. You can donate them to charity if you find no use for them, or pack them in your toiletry bag for your next trip.
One hotel housekeeper agrees, sharing on online forum Reddit: "I just started working at a hotel, we toss them out if they're not exactly where we placed them."
Stationery
Ad. Article continues below.
That fancy pen and paper sitting on your dresser drawer in your hotel room isn't just there for good looks, that is some serious marketing material that the hotel proprietors would love you to take with you.
Not only are you spreading the word about them, but that might just inspire someone else to stay a night or two in their hotels down the track.
Miscellaneous items
Other items like bathrobes and bed slippers are generally off-limits in hotels, but this depends on the calibre of hotel you're taking respite in. Some high-end establishments allow their guests to take certain items with them when leaving, but generally this will be stipulated before purchase.
The strangest items taken from a hotel room
Ad. Article continues below.
Not everyone follows the rules, though, unfortunately and some absolutely bizarre items have been stolen from hotel rooms around the world. Some of the most brazen items stolen include:
Sex toys from a hotel in Bath, England
Mirrors from Travelodge
A chandelier from Shangri-La, Hong Kong
A grand piano from Starwood Hotels
What do you deem to be OK to take from a hotel room? Let us know in the comments section below.