The best fishing experiences and locations in the Northern Territory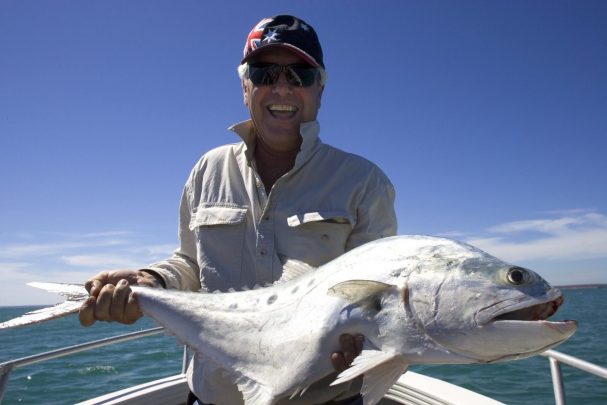 The Northern Territory is currently coming off its best wet season in four years. Current rainfalls total about 20 per cent above the season average causing a significant boost in fish populations into river systems, particularly around Darwin.
This peak 'run-off' typically sees barramundi exit floodplains in huge numbers, entering creek mouths as rivers begin to regain shape. Recent reports from recreational fishers in the Territory are that fish numbers are high.
While now is by far the best time to grab a fishing rod and head north, there are stacks of great fishing experiences to be had in the Northern Territory throughout the whole year. Here are just a few!
Read more: 14 reasons the Northern Territory should be on your bucket list
1. Cobourg Peninsula, Arnhem Land
Ad. Article continues below.
Just a one-hour flight from Darwin is one of Australia's best and most untouched fishing destinations, the Cobourg Peninsula. Jutting out into the Arafura Sea from the north-west corner of Arnhem Land, Cobourg is surrounded by bays, inlets, rocky headlands, and coral reefs. Here, barramundi are found in the tidal creeks and estuaries, but the area is better known for its bluewater fishing. Anglers have many reef outcrops and creeks to choose from, both inside Port Essington and offshore. Regular catches include barramundi and mangrove jack Spanish mackerel, queenfish and cobia Golden snapper, coral trout, saddletail snapper, Giant trevally, stripeys, red emperor and cod, just to name a few. Cobourg Fishing Safaris offer fly in/fly out accommodated fishing packages based at Cobourg Coastal Camp. Catering for just a single group at a time they offer a very exclusive fishing experience with flights to fishing gear all included. Guides are some of the most experienced, knowledgeable and professional individuals in Top End fishing, all who have been in the industry for over ten years knowledge of the local marine environments and their attention to customer service has been paramount to our continued success.
2. Rivers and reefs, Darwin and surrounds
Fishing charters are by far the best way to fish Darwin and surrounds. River and Reef Fishing Charters specialise in one-day and extended barramundi fishing trips departing from Darwin. Fishing locations include the South Alligator River, Shady Camp, Corroboree Billabong, the Mary River, the Adelaide River, Darwin Harbour, and Bynoe Harbour. The crew on board will provide you with quality tackle, rods, reels and lures and food and drinks for the days so you only need to bring yourself.

Ad. Article continues below.
3. Helifishing, Darwin and surrounds
If you love fishing, this is an experience to add to your bucket list. Helifishing is more than just a fishing tour, its adventure equipped with a fishing reel via helicopter. Fly over some very spectacular country including vast floodplains, rivers, wetlands and billabongs and land in some of the countries best and most remote fishing locations. Helifishing is suitable for all ages.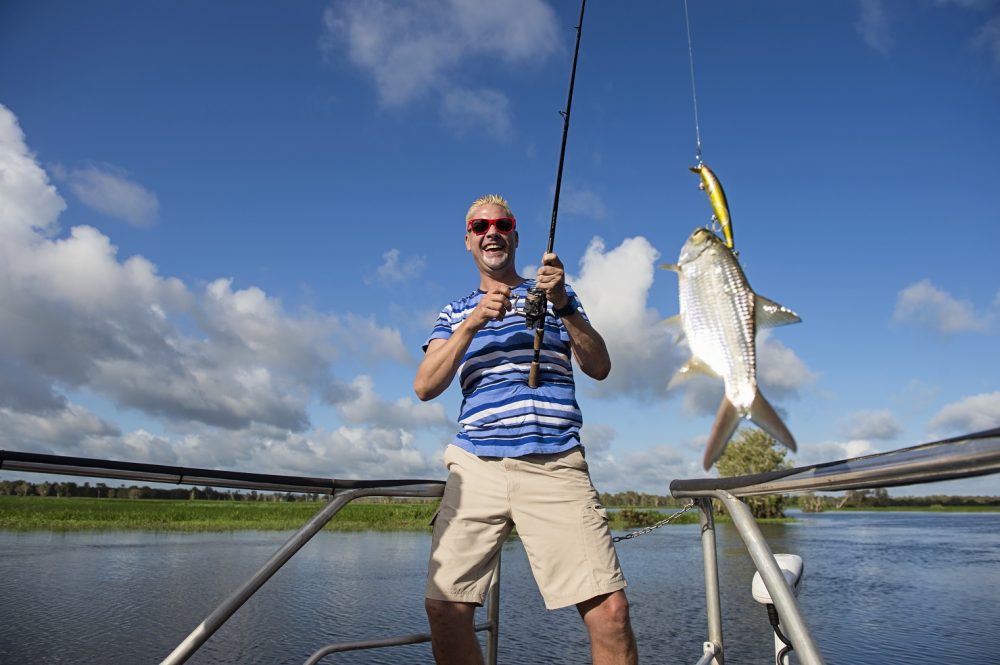 4. Groote Eylandt, Arnhem Land
Ad. Article continues below.
This is remote Fishing at its best, anglers from around the world visit the fishing grounds on the south of Groote Eylandt in the Gulf of Carpentaria, known for large numbers of marlin and sailfish between November to March. Groote Eylandt Sports Fishing operate professional fishing expeditions from Groote Eylandt Lodge, with local guides who know the waters. A typical safari includes return airfares from Darwin, twin share accommodation, meals as well as three to five days of guided fishing and transfers on Groote Eylandt. Groote Eylandt Lodge also provides facilities for visitors to the island, including beachfront accommodation and a dedicated fishing village, a modern bar and restaurant, and a resort-style pool. Groote Eylandt game and sport fishing club hosts major game fishing competitions each year. Live-aboard charters are also available.

5. Kakadu National Park, Kakadu
Fish one of Kakadu National Park's many waterways and go in search of the mighty barramundi with Kakadu Fishing Tours. Spot migratory birds, crocodiles or other wildlife while you fish. The team will provide a six metre custom boat as well as all quality tackle. Full day and extended charter tours are offered during the run-off season in March to May, while half day morning and afternoon tours are offered during the dry season from June to November.

Competitions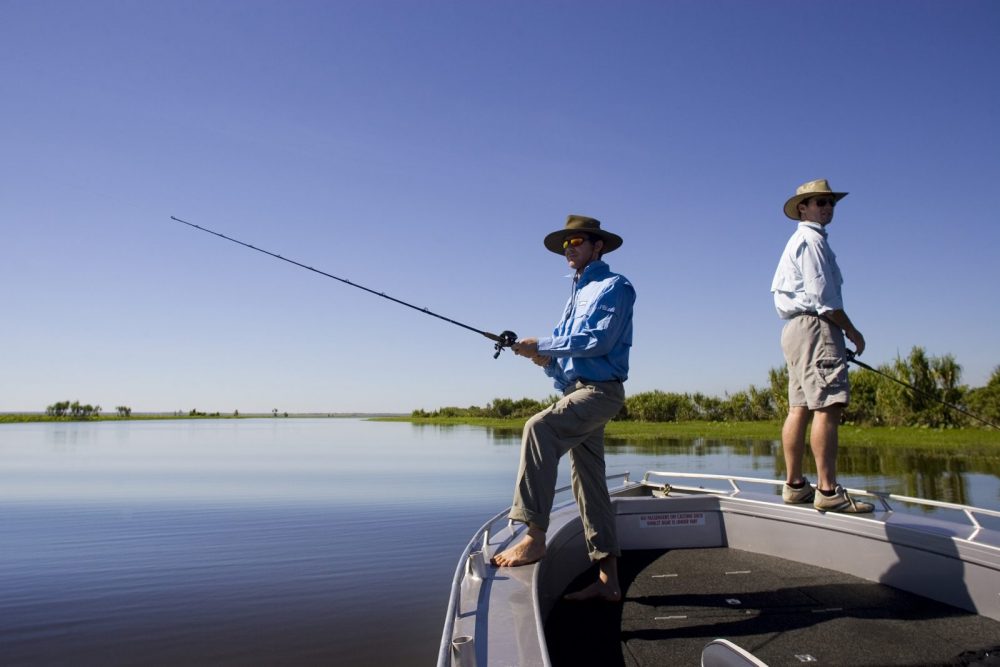 Ad. Article continues below.
1. Territory freshwater fly fishing open, Darwin
Each year the Darwin Flyrodders hosts the Territory Freshwater Open in the iconic Corroboree Billabong, comprised of over 50km of navigable waters. The premier species targeted are barramundi and saratoga, with tarpon, sleepy cod, longtoms and catfish also eligible for points for length. Camping is free for competitors and other accommodation is also available.
When: May Day Long Weekend, 29th-30th April 2017
Where: Corroboree Billabong
Price: Free for competitors

2. Dundee Easter family fishing competition 
Cast a line over the Easter long weekend and enter you and the family into the annual Dundee Easter family fishing competition. There are prizes to be won for catching the heaviest salmon, golden snapper, queenfish, jewfish, mackerel and barramundi. There's also a prize for the heaviest mud crab.
Ad. Article continues below.
Where: Dundee Beach (25 km southwest of Darwin), NT
When: 13 – 16 April 2017
Price: Adult – $50, Child – $15
3. Reel Women Barra Classic
This year marks the 16th annual Reel Women Barra Classic which aims to involve women in recreational fishing. The female friendly fishing Classic attracts hundreds of women from not only the Northern Territory, but right across Australia. Competitors fish for barramundi at the infamous Finniss river and any waters accessible from Dundee Beach. Teams can be between two to four women and you can enter as an independent team or with a male skipper. Funds raised at the 2017 Reel Women Barra Classic will support Anglicare NT programs that assist young women and families in need.
When: 5 – 6 May 2017
Where: Dundee Beach (25 km southwest of Darwin), NT
Price: $395 per angler 

4. 
Gold NT barramundi classic
Ad. Article continues below.
Now in its 36th year, the Darwin Game Fishing Club will again hosts its annual Barra Classic at Banyan Farm, on the famous Daly River. Over the years the Barramundi Classic reputation has grown throughout Australia, with fisherman travelling thousands of kilometres to compete. The Barramundi Classic is an invitation-only tournament and the 45 places are hotly contested. The fish caught are measured, tagged and released under the guidance of the Northern Territory Fisheries. Entertainment, fantastic food, a licensed bar and excellent company are all included.
When: 6 – 12 May 2017
Where: Daly River, NT
Price: Spectators free. Entry fee applies to participants only
Do you consider yourself a bit of a fisherman? Have you visited any of these places in the Northern Territory? Let us know in the comments section below.