Should Australian tourists be named and shamed if they commit a crime on holiday?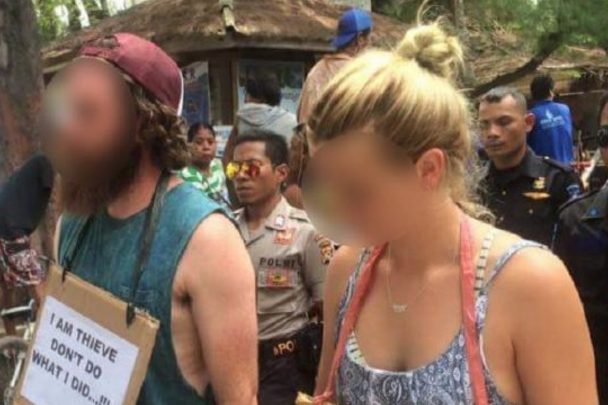 When you travel to a foreign country it seems like common sense that you would be bound by the rules of that destination, and yet when young Aussies find themselves in trouble they are desperate for the Australian Government to come to their aid.
Could it be that the punishments faced by these 'criminals' are far more serious than the crime they have been accused of committing?
It's claimed that a couple of Australians holidaying at Indonesia's Gili Islands stole a bicycle on Gili Trawangan, which is off the coast of Lombok.
The island has no permanent police force so the local villagers have taken to their own form of punishment for those found guilty of doing the wrong thing… the Walk of Shame.
The unidentified pair were paraded through the island with a sign that read: 'I am thieve [sic]. Don't do what I did…!!!'
Ad. Article continues below.
It's not the first time tourists have been 'shamed' for their bad behaviour. Earlier this year China's tourism authority added names of tourists to an online blacklist in an effort to stamp out uncivilised behaviour by Chinese tourists when they travel abroad.
How successful is this type of approach though?
According to the New York Times, China's approach has had little impact on the overall behaviour of its citizens.
In the case of the two Australians at Gili Trawangan it's thought they are the first foreigners to have to do the Walk of Shame in 2016. They were also forced to leave the island.
What are your thoughts of 'naming and shaming' tourists in this way? Share your thoughts with us.