Rumba Resort Review, Bulcock Beach Caloundra Part 2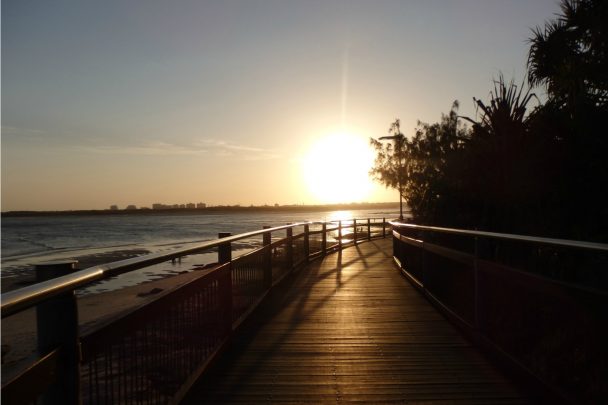 Jeni Robinson continues to give you an insider's view of the Rumba Resort at the Sunshine Coast. You can read Part 1 of her adventure here.
Sunday morning markets are held in the main street and make for another good retail experience. A leisurely walk around the Happy Valley boardwalk as it follows the coastline is definitely a must-do and can cater for wheelchairs and strollers.
A grove of magnificent Norfolk pines provides shade for some of the way as pedestrians take in the magnificent views along the coastline with its golden sand beaches and rocky outcrops. Well-placed park benches provide a welcome respite for those needing a break while taking in the beautiful vistas. If visitors happen to make it to Kings Beach with its rolling surf and public swimming pool, a well-patronised cafe where thirsty or hungry travellers can grab some form of refreshment is located on the left of the path before the main beach area.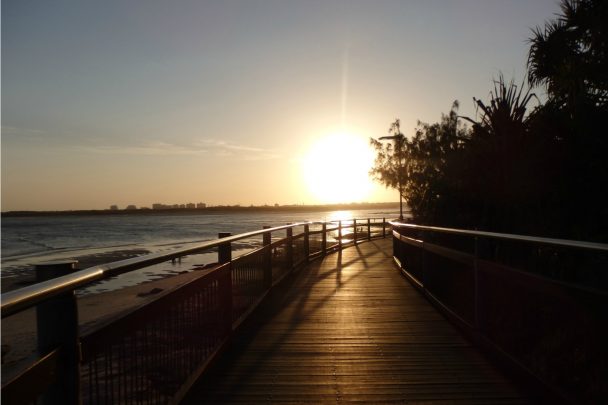 There are many tourist attractions within driving distance of Caloundra, including Australia
Zoo, once the home of Steve Irwin, the Crocodile Hunter, located about 20 minutes away.
Ad. Article continues below.
Around 20 minutes drive in the other direction is the Sealife Aquarium with its magnificent display of tropical and estuary fish varieties and an entertaining seal show. Mooloolaba and Noosa — two famous seaside towns — are around 30 minutes and an hour away respectively, and the spectacular volcanic Glasshouse Mountains with their wilderness walking tracks and an assortment of tropical fruit stalls are located about 40 minutes drive south towards Brisbane.
The former Ettamogah Pub, named for the legendary cartoon strip, and now known by the moniker 'The Pub', is approximately 20 minutes drive along the Bruce Highway. Housing a fun sideshow area for the kids called Aussie World, it is an ideal place to keep them entertained, along with an assortment of shops in the strip at the front to browse through.
Large shopping malls can be found in all the major towns, as well as unusual gift shops and boutiques in all the out of the way places. The well-renowned Eumindi Markets with its huge variety of locally made foodstuffs and crafts are around 40 minutes drive north, while the gorgeous Sunshine Coast hinterland towns of Maleny, Montville and Mapleton — and the magnificent Kondallila and Mapleton Falls — provide a lovely escape for a leisurely drive and shopping/eatery experiences while enjoying the magnificent scenery from the mountain range.
Our visit was in early December and so a Christmas party was being held in the bar area on our first night. Although the revellers were rather noisy as this section was located outside our number 105 apartment, once our heavy entrance door was closed, the noise was soon drowned out and having our bedroom located at the beachside end meant our sleep wasn't disturbed at all — a very good design point by the architect.
My only 'criticism' for the apartment itself would be having no light switch in the en suite. The only one is located on a panel at the bedroom entrance door, which then means any nocturnal visits to 'the little house' need to be made in the dark if you don't want to disturb your partner with a very bright wake-up call! A small inconvenience but something for architects/builders to consider in future… maybe a small lamp in each bathroom would be a suitable alternative.
Ad. Article continues below.
A very big thank you to Starts at 60 Travel and the management and friendly staff of Rumba Resort for a delightful stay in a beautiful and peaceful part of our spectacular country.
This happy traveller and her hubby will most definitely be back — after all, we even added two more days on to our already allotted two because it was so very relaxing and enjoyable.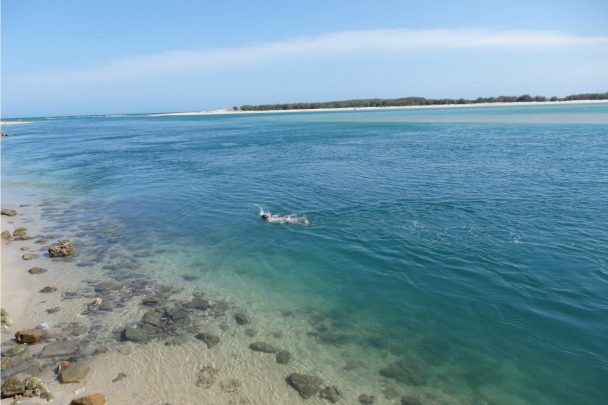 As our original two-bedroom apartment was already booked, we were moved to a fourth floor single-bedroom one and the experience was just as delightful. The views, although not quite as panoramic, were just as spectacular down to the pool area and out across the aquamarine waters of the Pumicestone Passage. Naturally this was a smaller apartment overall and yet it was still very roomy and with all the benefits of the larger one, including a king-sized bed, fully-equipped laundry area and the same sized kitchen with all its benefits.
Ad. Article continues below.
A well-located balcony and another relaxing large jet-spa in the bathroom were other much-appreciated benefits. Again, a bathroom light switch would have been better in the room itself but this was a small inconvenience as the whole experience was close to perfect.
I am more than happy to thoroughly recommend this resort to anyone wanting a relaxing beach holiday — either as a couple or a larger family. The accommodation is on the higher priced end but it is definitely worth every cent for the features offered and that wonderful location.
Have you been to a location that exceeded your expectations? Tell us about it.