Rumba Resort Review, Bulcock Beach Caloundra Part 1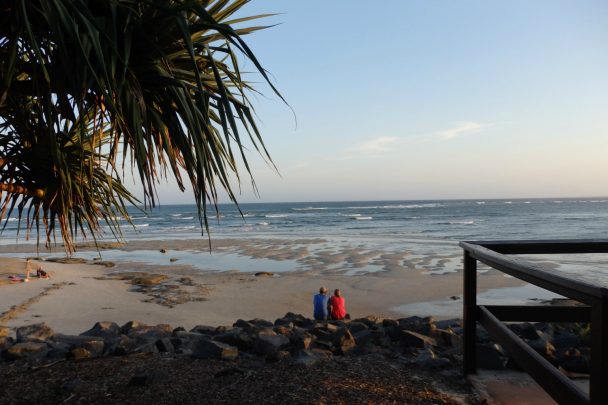 What a delightful weekend my husband and I have just spent in the beautifully positioned and well-presented Rumba Resort, located directly across the road from Bulcock Beach, Caloundra on Queensland's spectacular Sunshine Coast.
From the moment we stepped through the front door of our two-bedroom first floor beachfront apartment, we knew we were in for a relaxing time.
Our king-sized 'cloud' bed with oversized pillows was extremely comfortable with a gentle flow of air-conditioning making for pleasant sleeping conditions. There was a large screen wall-mounted TV for our viewing pleasure and the floor to ceiling picture windows with sliding glass door leading to the spacious balcony provided direct water views.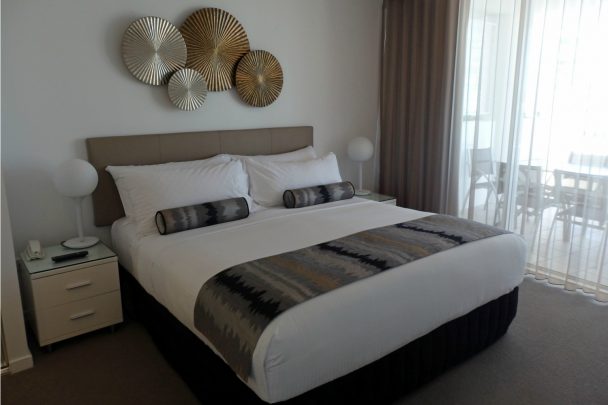 As I pulled back the curtains on our first morning, we were greeted by a friendly black and white magpie — one of Australia's native bird varieties — foraging for his breakfast in the pretty garden bed adjoining our suite.
The roomy adjoining en suite had a large two-person jet spa tub, which quickly turned into my perfect reading nook at the end of a fun-filled day, along with a spacious shower, two separate vanity units and a modern toilet suite.
Ad. Article continues below.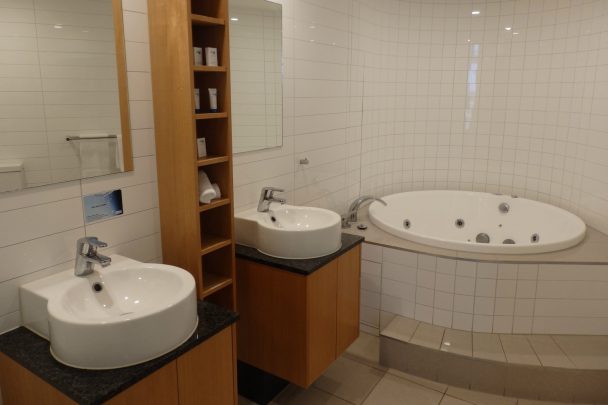 Similar to the main bedroom, the lounge area had floor to ceiling picture windows with sliding doors out to the expansive balcony. These provided stunning vistas and were able to be enjoyed from the kitchen and dining areas as well.
The balcony itself had a four-seater bar table and stools in one corner, along with a large outdoor dining setting in the other, and both areas enjoyed full panoramic views of the Pumicestone Passage and across to Bribie Island. Looking east, guests are able to watch a slow procession of large ships plying back and forth on the edge of the Pacific Ocean on their way to Brisbane's busy port, while the western side looked across to Golden Beach, and the magnificent Glasshouse Mountains were easy to spot on the horizon. Vivid sunsets provided a spectacular backdrop to both.
Ad. Article continues below.
The roomy living area contained a large leather lounge suite, a single chair and ottoman, along with a large flatscreen TV with Foxtel included, as well as a DVD player and eye-catching artwork on the walls. A dining table catering for four and a modern writing desk was located at one end of the open-plan living/kitchen area.
A well-appointed roomy kitchen with a full sized stainless steel fridge, modern appliances and well stocked pot drawers provide the perfect place to rustle up a meal, although having several dining options only a few steps from the resort can give all the chefs a well-earned break from cooking chores if they so desire.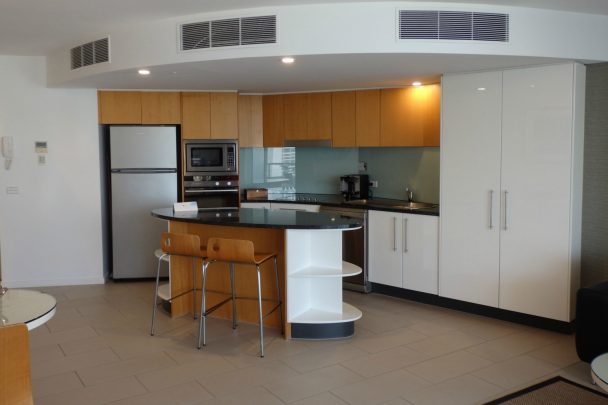 Our apartment catered easily for four people with a generous array of classic crockery, glassware and silverware available, while a stainless steel dishwasher made for easy clean-up. The black granite bench tops and white two-pac cabinetry, including a generous oval Island bench, provided more than enough room for meal preparation.
Ad. Article continues below.
Having a modern-day coffee maker available was a nice addition and an array of several beverage choices in sachet form made for the perfect cuppa while enjoying the balcony views.
There were two comfortable single beds in the second bedroom, along with a double sliding door wardrobe similar to the one in the main bedroom. Management has stocked both of these with plenty of coat hangers, extra blankets for cooler nights, as well as large beach towels for guests to use at the beach opposite or around both the pools, spa or separate hot jacuzzi.
The guest bedroom is located beside a large main bathroom and, besides housing a large shower recess, vanity basin and toilet suite, there is also a full-sized washer and dryer in their own nook behind the door — with two laundry powder sachets provided for guests to use. Both bathrooms contained a vast assortment of toiletries, enough to cater for a few days stay, as well as large fluffy bath sheets and assorted linen necessary to make your stay comfortable.
The extensive outdoor community entertainment area in the centre of the resort contains a large inviting free-form pool with a child's paddling area, a separate spa tub, an intriguing designed large hot jacuzzi and a long lap pool.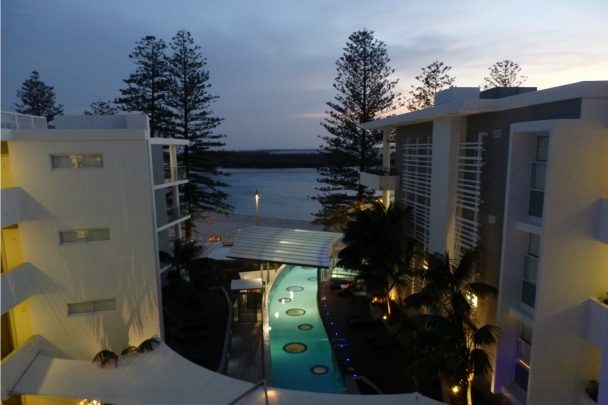 These are all located on the first floor of the resort and the unusual lap pool has a glass-fronted end, which looks down to the street and then over to the Pumicestone Passage, providing great views for both swimmers and any passersby in the street below!
There is also a well-stocked resort bar with plenty of tables and chairs for guests to enjoy a relaxing drink while looking over the pool area, along with a mass of sun loungers to while away an hour or two in the filtered sunlight beside all of the individual water-play sections. 
An easy flight of stairs down to the street from the pool area takes you to a good variety of dining choices, from fine dining to cafe-style and takeaway, as well as ice cream shops and bars, and all with views across to the sparkling water.
Ad. Article continues below.
This means guests don't even need to take their car out if they don't want to, though lift access to the car park makes for an easy getaway if needed.
Electric or ordinary bikes are available for hire from reception and give patrons a different perspective to take in the sights of this delightful coastal township. The main shopping precinct is only two blocks away and hosts an array of unique boutique shops, as well as the usual traders found in most townships.
A Super IGA supermarket providing all your grocery needs is only about four blocks away and a chemist is less than two.

Read more about Jeni's recent trip to the Sunshine Coast and find out what she thought of the Rumba Resort at Caloundra in Part 2 of her adventure.
Have you been to Queensland's Sunshine Coast? Which beach is your favourite? Tell us why.