Retirees caught up in Cyclone Debbie ordeal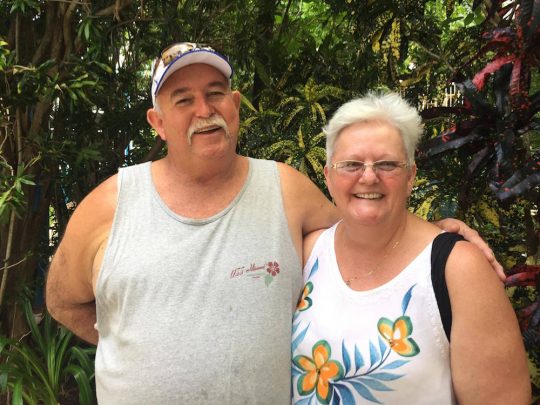 Leanne and Wally Morris were sitting just outside the atrium at Daydream Island Resort and Spa. Wally was wearing a cap, singlet and a pair of thongs, while Leanne wore a floral singlet and a pair of shorts. They looked like they were well and truly in holiday-mode.
Originally from Maitland in the Hunter Valley in New South Wales, the couple were celebrating their 39th wedding anniversary as well as Leanne's 57th birthday on the island after an Italian exchange student gifted the holiday to them as a token of appreciation.
"His mum and dad and family gave us this holiday and booked it for our wedding anniversary and my birthday which is today," Leanne said on Saturday. "And we've been married 39 years today, too."
One of the most popular islands on the Whitsundays coast, the couple were looking forward to exploring Daydream Island before they were scheduled to head home on Monday.
Ad. Article continues below.
"We're hoping to go on a cruise today but it got cancelled because of the weather," Wally, 59, said. "So, we've been for a walk across the rainforest area."
"We're just going to chill out, relax and enjoy the beautiful island," said Leanne, adding: "I retired yesterday."
Read more: Devastating before and after images of Whitsundays revealed
But that relaxing holiday quickly took a turn for the worse, as the couple became stuck on the island amidst the arrival of Cyclone Debbie. Wally and Leanne were two of many guests who were not able to get off the island before the cyclone hit.
"There's no restaurant area, it's all been flooded," Wally told Seven News. "There's just devastation everywhere you look," he said.
Ad. Article continues below.
"We were lucky enough that our window didn't break. We were just hauled up there for a couple of days. Couldn't do anything."
For Leanne and Wally, the Whitsundays region was a jewel in the Australian crown, and there are hopes the area will get back on its feet as soon as possible.
"It's the best part of Australia," Wally told Travel at 60 before the cyclone hit.
"It doesn't matter what dickhead politician is in, we're in the luckiest country in the world."
While the pair may need some time to recover, they do have more travel plans coming up.
Ad. Article continues below.
"We're going to go to Tasmania this time next year for our 40th wedding anniversary," said Leanne.
We wish them all the best!
Were you caught up in the devastation caused by Cyclone Debbie? Share your experiences in the comments section below.