Results announced for worst airlines and it's bad news for Australia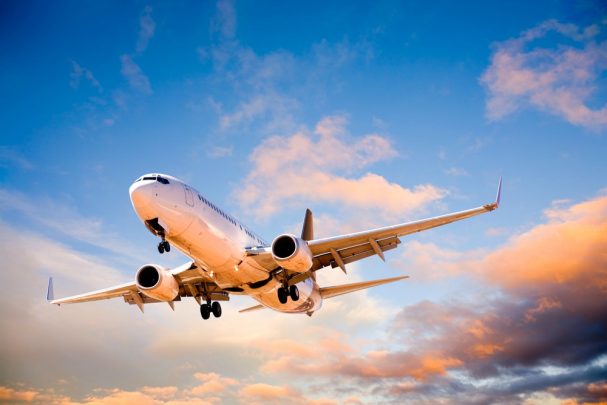 An Australian airline has rated worst airline in an International airline customer satisfaction survey by CHOICE.
The survey rated airlines on their check-in and boarding processes as well as their meals, punctuality and cleanliness, with Jetstar coming in 73rd, out of 73 airlines. Emirates took the top spot at number one.
Tom Godfrey, CHOICE Head of Media said it was one thing for Jetstar to be low cost but quite another to be low rent.
"It's not too surprising Jetstar rated so poorly given its track record of delays and cancelations and its policy of landing its customers with sneaky pre-ticked extras," Godfrey said. 
Read more: Russian airline only wants thin flight attendants. 
Ad. Article continues below.
CHOICE and 10 other consumer groups surveyed 11,000 passengers from Australia, Belgium, Brazil, Denmark, France, Italy, Portugal and Spain. Amongst the main issues were delays, lost luggage and being out of pocket financially, with one in four flights delayed and one in ten having their luggage lost, damaged or delayed.  
"10 per cent of passengers experiencing a flight delay also suffered some financial loss such as missing pre-paid tour bookings, onward transport or hotel accommodation. In more than half of these cases, travellers lost over $140 (100 euros)."
While European passengers can access set compensation following a delay or cancellation, Aussie airlines leave consumers out of pocket when they make a mistake, which may help explain their poor satisfaction rating. Jetstar passengers reported a delay of on average 238 minutes.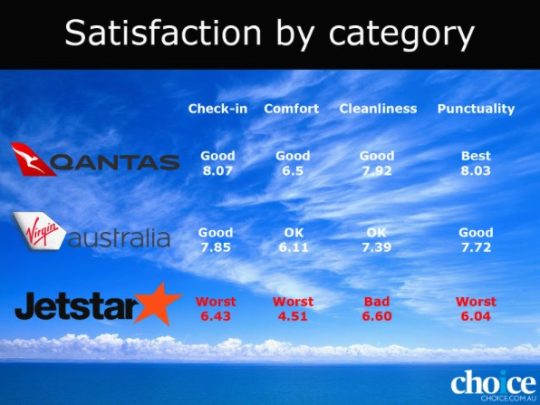 Despite the criticism, a Jetstar spokesman said they questioned the validity of the survey, given that Tiger Airlines was not included as their was not enough responses about the airline, while pointing out Tiger had been named the worst airline in Australia for customer service by the Airline Customer Advocate, the consumer body for Australia's aviation industry, several years running.
Ad. Article continues below.
They also pointed out that Jetstar has been named the best low cost carrier in the Asia Pacific for six years running by SkyTrax, an internationally recognised and accredited ranking.
The spokesman also said CHOICE seemed not to understand the safety standards they operated under, nor did they recognise the role of low cost carriers in making travel more affordable for millions of Australians.
"We know how important it is to get customers to their destination on time, and we recognise there is room for improvement and our team is doing a lot of work behind the scenes," the spokesperson said. "Weather is often the source of delays, particularly in the more tropical destinations we operate to, and we'll always put safety before schedule."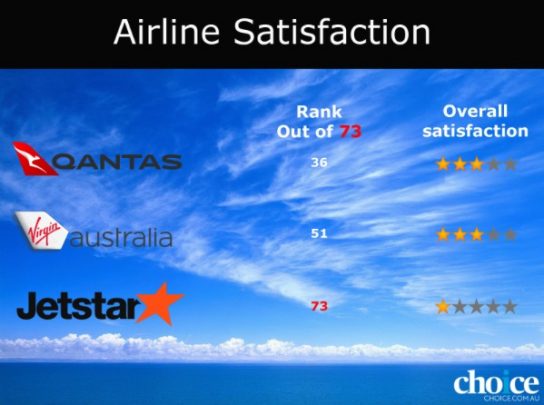 Read more: This is how planes kill 99.99% of germs. 
Ad. Article continues below.
The CHOICE survey also revealed:
Worst for delays
Jetstar ranked second worst for delays overall
The average Jetstar delay was 238 minutes, with 37.2% saying they had a delay
19.0% of Qantas passengers said they had a delay, and 25.6% of Virgin passengers said they had a delay
Best and worst airports
Brisbane and Canberra were Australia's best airports overall
Melbourne was the worst Australian airport listed in the survey
Ad. Article continues below.
Booking online: website comparisons
Jetstar received the worst score for website transparency with a score of 4.85/10. The best score for website transparency was 8.01 from Singapore Airlines.
Jetstar was the only airline ranked in the "worst" category for websites
Qantas ranked "OK" and Virgin Australia ranked "bad".
Reasons for Aussies travelling
Leisure: 60.5%
Visiting relatives: 25.2%
Business: 11.9%
Other: 2.4%
Reasons for choosing airline
24.3% cited price as the main reason for choosing an airline followed by 20.4% choosing on timetable and then 15.1% choosing company reputation
Have you experienced lost luggage and major travel delays on your travels?