Queenstown activities for adventurous travellers over 60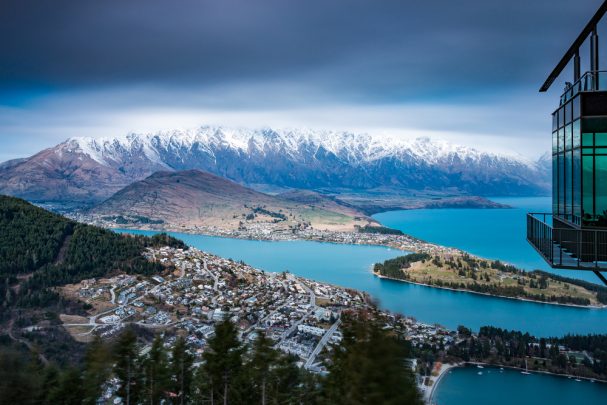 Our friendly neighbours "across the ditch", New Zealand is the land of adventure, natural beauty and experiences of a lifetime. Not only is it the number one destination for overseas holidays for Aussie travellers in general, it is also quite a popular destination for senior travellers – especially for those who enjoy being active.
One of the most popular tourist destinations in New Zealand is world-famous Queenstown. While it is most known as the "adventure capital of the world", it is also a stunning place to visit for breathtaking views.
1. Skiing
The South Island is home to more ski resorts than anywhere else in the country, and if you make Queenstown your destination you'll only be a stone's throw from some irresistible peaks. With mountains to climb, ski, jump off or simply admire from the comfort of a bar stool, the greatest challenge in New Zealand's adventure capital is finding time for boredom. Coronet Peak and The Remarkables are the main ski areas near Queenstown. If you are feeling more adventurous, you can also opt for heli-skiing and boarding, backcountry skiing, mountaineering and niche snowfields.
Higher elevations provide Queenstown's ski areas with a more reliable cover than Australia. Should you visit in winter, you'll be bombarded with all the skiers making their way to the town. Make the most of the opportunity to hit the slopes with Queenstown as your base.
Ad. Article continues below.
2. Cycling
For active over 60 travellers, the area is very well suited to cycling and you can make your way over to Arrowtown for a great day trip to a town rich in history. There are cycle trails for a more relaxing experience and mountain bike trails for the more adventurous traveller.
Ride more with 27 world class mountain biking trails and varying terrain for all abilities. In amongst the pine trees of the Ben Lomond Reserve, Queenstown Bike Park boasts over 30km of tracks and a longest run of 6km.
3. Hiking
Walking is good for everyone, particularly with views as stunning as this. At any time of year you can enjoy the many hiking trails around the area. No matter what your fitness level you'll be able to find something that fits perfectly.
Ad. Article continues below.
If walking is a pastime, you may want to book some of the great multi-day walking expeditions that are on offer so you've got plenty to look forward to. You could try the 3-hour Queenstown Hill Time walk, which leaves from Belfast Street and offers panoramic views at the top, or the the 4+ hour Ben Lomond walk with magnificent views of the lake & mountains as well as the summit of Mount Aspiring.
4. Bungee jumping
For many visitors, bungy jumping in New Zealand has almost become a rite of passage, that they take that heart-stopping leap of faith while visiting.
No matter which bungy option you choose — the relatively mild ledge swing 400 metres above Queenstown; the massive Nevis swing with a 300-metre arc and a 70-metre drop; or the Nevis bungy, which is the highest in Australasia, with a 134-metre drop and 8.5-second freefall — this is as scary as it gets.
Bungy jumping was pioneered in Queenstown in 1988 and there seems to only be a rise in its popularity – it is the ultimate bucket list item for many.
Ad. Article continues below.
5. White water rafting
From a quiet drift through forest wilderness to a white-knuckled, wide-eyed journey down turbulent rapids, rafting covers the full adventure spectrum. If you're looking for a superb adrenaline rush, look no further.
Queenstown is a rafting wonderland with two very different rivers; the wild and thrillingly tumultuous Shotover River and the playful, grandiose Kawarau River.
Most of the companies operate on a year-round basis but experiences differ depending on the time of year. For example, spring time typically sees the highest water levels after winter melt in the mountains which means higher graded rapids and extra thrills, while winter rafting on the Shotover River is only possible with a helicopter flight in because of inaccessible roads.
6. Jet boating
Ad. Article continues below.
Sit back, buckle yourself in and feel the acceleration of the jet boat. Locals say the best seat in the boat is right behind the driver, because it's the part of the boat that goes closest to the cliffs, but wherever you are in the V6 supercharged boat, this is a thrill-a-second experience.
A jet boat ride will take you powering through narrow river gorges, almost brushing against sheer rock faces; or skimming across the surface of water channels that weave through the shingle banks of braided rivers. Some of the most exhilarating trips are found near Queenstown.
7. Caving
Explore natural underground formations and caves with a caving expedition in Queenstown, as you marvel at glowworm displays and cave formations. Caving experiences range from a dreamy drift through a glowworm grotto to a rip-roaring, rope-dangling, action-packed subterranean adventure.
The Te Anau glowworm caves are hidden beneath the mountains on Lake Te Anau's western shores; they are an underground network of caves lit by hundreds of glowworms.
Have you been on any of these experiences? Which would you recommend for your fellow over  60s? Would you add any to the list?