Passengers in transit were treated to a special Christmas treat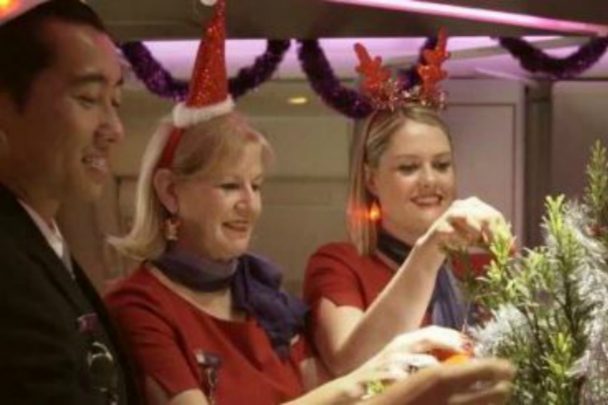 Travelling around Christmas time can really be a pain. There are the long queues for check-in, possible flight delays getting to and from your destination, the potential for your luggage not to meet you at the other end… As much as you might relish in the chance to spend quality time with your loved ones, if you've ever had a rough travel experience around the festive season, you might be asking yourself 'why did I do this?'
Virgin Australia knows just how tricky Christmas travel can be and have managed to bring the gift of Christmas to passengers who missed out on the December 25 celebrations as they travelled across time zones roughly 38,000ft in the air on their way from Los Angeles, Unite States to Sydney and Brisbane in Australia.
"Every year there are two Virgin Australia flights that skip Christmas entirely, thanks to an unavoidable time hack," the airline told 9News.com.au.
"At Virgin Australia we don't think that's fair, so we wrote to jolly old Saint Nicholas to see if he could help."
You wouldn't read about it… Saint Nick was happy to assist!
Ad. Article continues below.
Two flights — VA2 and VA8 — were decked out with tinsel, Christmas treats and stocking stuffers.
Passengers were also treated to something a little fancier than the normal fare of airline food, with a full Christmas spread of roast turkey, mashed potato, green beans and cranberry sauce on the menu.
There was even a surprise visit by the fat man in the red suit for all the children on-board the flights; Santa Claus quietly walked the aisles of the plane leaving a stocking full of presents for each child as they slept.
How great is this demonstration of Christmas spirit by the airline? Have you ever missed out on something because of travel? Share your stories with us.