A scenic railway journey to stop you in your tracks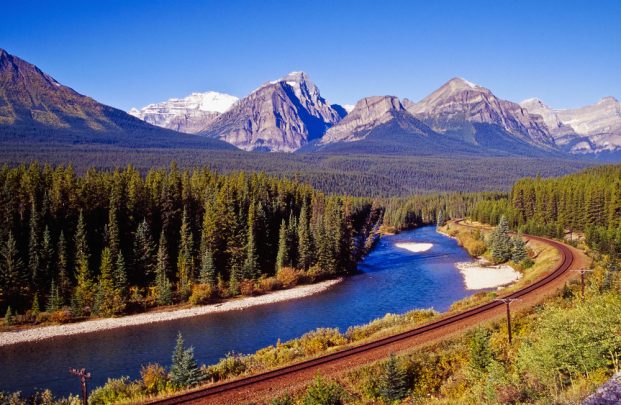 My husband and I are fond of rail travel and have done some interesting trips including Rovos Rail in South Africa and Zimbabwe, from Sydney to Broken Hill on The Indian Pacific, and Vancouver to Calgary on the Rocky Mountaineer.  
Our favourite by far was our journey on The Canadian from Toronto to Vancouver. It did not start well, late arrival of the train into Toronto delayed our departure by nearly four hours but that did not sour it for us.
It is a most amazing ride, the cabins are very comfortable and the service was first class!
As we departed Toronto in the early hours of the morning we were happy to fall into the bunks made ready for us when we were allowed to board.
We were told that breakfast would be available in the dining car until noon so that was great news, not having to get up too early.
Ad. Article continues below.
The meals on the train were wonderful, compared favourably to a very good restaurant, plenty of choices and an excellent wine list.  The first day we travelled through the lakes and forests of western Ontario, very picturesque. 
Read more: Cruise and rail journeys worth planning your holiday around
By early evening the scenery was changing to more prairie-like vistas but still very beautiful. We spent most of our days in the dome car and met some very interesting people from New Zealand, Germany, Poland, USA, and, of course, Canadians (such great folk, eh!).  
As the line is mostly single-track, The Canadian has to pull off onto sidings to allow the very long and very frequent freight trains to pass but at night we rarely noticed the stopping and during the day it was very interesting to see how much freight is carried on the double level containers.
Some of them had nearly 200 freight cars! The children on the train had great fun counting and comparing. Surprisingly, Manitoba was also very beautiful with lots of lakes and wooded areas.
Ad. Article continues below.
In Winnipeg we were able to disembark for a couple of hours and visit the nearby markets. A good part of Saskatchewan was covered at night but in the daytime we saw lots of wheat silos in both Saskatchewan and Alberta.  
A short stop in Edmonton allowed us to get off and have a wander, then on to Jasper, the last stop before Vancouver.  
Sadly, we passed through most of the Rockies at night but still saw some wonderful sights and the ride down the Fraser Canyon is never to be forgotten.  We pulled into Vancouver about nine hours late which meant we had been on the train for four days and four nights, all of it wonderful and we would do it again if we could.
Have you been on The Canadian railway journey? Let us know all about your own experiences in the comments below.