The must-do adventure on your next trip to Melbourne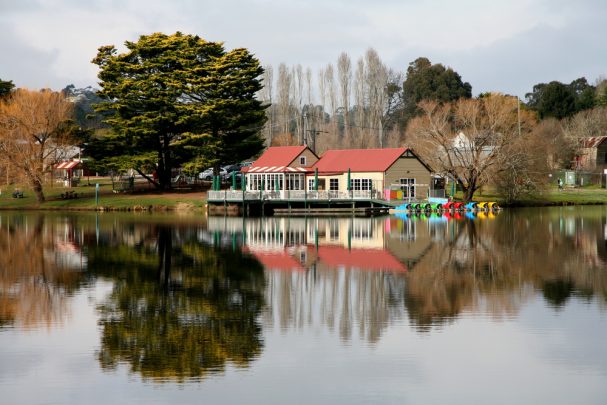 If you're visiting Melbourne, Australia, don't go home without a visit to the countryside. There are many lovely country towns within one or two hours drive from Melbourne. 
One of my favourite getaways is Daylesford, which has long been famous for it's mineral springs and beautiful lake. A walk around the lake is a must! 
Daylesford is also a foodie town with many excellent dining choices, including Bad Habits cafe at the Convent Gallery. This cafe is in a 19th-century mansion, which was once a nunnery. From the verandah you can see lovely vistas of the surrounding countryside and you can explore the art gallery and gardens whilst there.
Some restaurants in Daylesford have chefs hat ratings and the local produce available here is amazing! We visited Henry Of Harcourt (219 Reservoir Road, Harcourt) where the Henry family has an orchard and cidery. We tested several ciders, which were very enjoyable. 
For the best cappuccino and pizzas, drop into Frangos and Frangos (82 Vincent Street, Daylesford). 
Ad. Article continues below.
Read more: Best gourmet food destinations around Australia
Whilst in Daylesford, you should also visit the neighbouring town of Hepburn Springs. At the Hepburn Bathhouse and Spa you can relax in the indoor mineral water pool or indulge in some luxury pampering, such as the Chocolate Champagne Body Wrap! Mmm ….. sounds deliciously sensual.
For a taste of Italy you can visit Lavendula Swiss Italian Farm, which is 10 minutes drive north of Daylesford. Enjoy the beautiful gardens and lunch al fresco, at La Trattoria. 
A visit to Daylesford and Hepburn Springs in the spring or autumn will nourish your soul and is a must for visitors from the tropics who don't get to experience these seasons at home.
We were lucky enough to stay five nights in Daylesford, so had plenty of time to explore the area and every day we went for a walk in the bush. We stayed in a friendly and comfortable homestay. There is plenty of accommodation available in the area, too, from single rooms to whole cottages.
On our last morning in Daylesford we visited the Wombat Hill Botanic Gardens and had a delicious breakfast at Wombat House Cafe before heading off on the 90-minute drive back to Melbourne.
Have you visited Daylesford? Let us know what you got up to while you where here.