8 of the most beautiful beaches in Queensland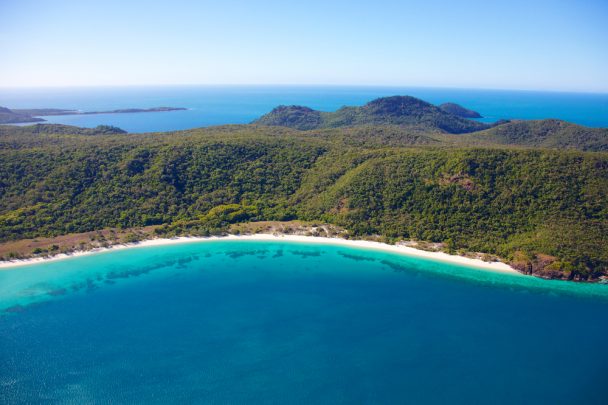 Summer is just around the corner and that means that many people around the country are going to be flocking to some of the many great beaches Australia has on offer. But with more than 25,000kms of coastline, there's quite a lot to take your pick from. Well, you're in luck if you're in Queensland, because these are some of the most beautiful beaches in the state.
Read more: Things to do on the Gold Coast that have nothing to do with Surfers Paradise
1. Whitehaven Beach, Whitsundays
Ad. Article continues below.
The largest of 74 gorgeous islands in the Whitsundays, Whitehaven Beach isn't any old beach, it's an award-winning one! The beach covers 7kms and has bright white sand, warm waters and just a quick walk away from lush bush walks and lookouts, too. Not that you'll want to wander far.
2. Rainbow Beach, Sunshine Coast
Ad. Article continues below.
A three-hour drive north of Brisbane is Rainbow beach, a must-visit for campers, beach-lovers and fishermen alike. A former sand mining town, Rainbow Beach is a sight to behold when the sun sets as it's bathed in pink hues, giving the sand a multi-coloured look.
3. Burleigh Heads, Gold Coast
Known as Burleigh to the locals, Burleigh Heads is a coastal town that has one of the best beaches on the Gold Coast. If you're a bit nervous in choppy waters, then you'll be happy to know that there's a protected area that's free from waves.
Ad. Article continues below.
4. Radical Bay, Magnetic Island
Off the coast of Townsville in Northern Queensland is Magnetic Island, which can be accessed by ferry. The Magnetic Island National Park covers half of the island, which can be accessed through a series of walking and 4WD tracks. But it's Radical Bay that is known for its rocky shoreline and soft sand.  
Ad. Article continues below.
5. Indian Head, Fraser Island
Indian Head is the most easterly point on Fraser Island towards the end of Seventy Five Mile Beach. The headland was named by Captain Cook when he passed by in 1770, but is known as Tuckee, meaning 'Stone', by the local indigenous people. Take a walk up to the headland for a 360-degree view of the area and get a load of those waters!
6. Agnes Water, 1770
Ad. Article continues below.
The main beach in the town of 1770 is more than 5kms long and begins at Round Hill until Agnes Water. But the great thing about the Agnes Water end is the camping spots that allow you to set up right in front of the shore.
7. Mission Beach, North Queensland
Ad. Article continues below.
In between Cairns and Townsville, Mission Beach is known for its wide shoreline and golden sands. But you might not explore all of it, because it is 14km long, extending through four villages, including Bingil Bay, Mission Beach, Wongaling Beach and South Mission Beach.
8. Lizard Island, Great Barrier Reef
Part of the Great Barrier Reef, Lizard Island is both an island and a national park that is about 10 square kilometres in size and made of granite. There are 24 sandy beaches on the island to take your pick from, so get your towel and sunscreen ready.
Which other Queensland beaches would you add to the list? Let us know in the comments section below.