Legend of the Seas departs from Brisbane for the last time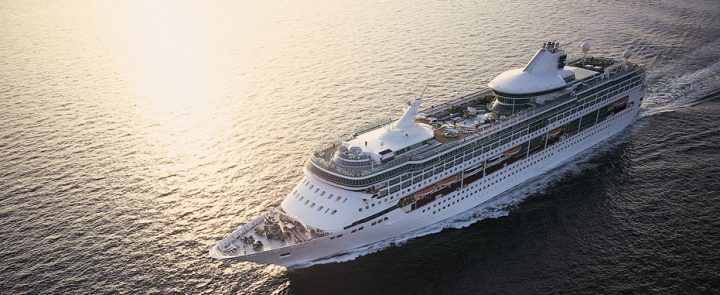 It's one thing to wave off a ship's departure when you have friends and family on board, but it's another thing entirely to see off a cruise as it makes it's last visit to Brisbane.
But that was the case for Royal Caribbean's Legend of the Seas, when it floated away into the sunset from the Port of Brisbane yesterday afternoon as members of the public, media and travel industry looked on with a touch of nostalgia. The ship has recently been bought by Thomson Cruises and will make its way to its permanent home in the U.K.
Able to carry more than 2,000 passengers, Legend of the Seas has eight bars and lounges, six pools and whirlpools, a 6,500-square foot Vegas-style casino, 11 decks to lap up the sun and sea breezes, and if you're feeling particularly adventurous, there's a rock climbing wall, too.
Royal Caribbean's head of sales in Australia and New Zealand, Peter McCormack, says it was sad to see off one of the only Royal Caribbean vessels able to travel to the Port of Brisbane.
Read more: How to get a cabin upgrade on a cruise
Ad. Article continues below.
"She's the only ship that we have down here that can cruise down the Brisbane River," McCormack told Travel at 60.
"It's been sold to another company, so she's been down here for two years and this is her last voyage before she makes her way out of Brisbane over to the UK."
The vessel will head to Darwin, Bali, Singapore, through to Europe, Barcelona and to then to the UK, the perfect voyage for those who love a bit of holiday cruising.
"What I really love about cruising is that you can go to your cabin, unpack your bags, and then everything is done," McCormack said.
"Your meals are included, your entertainment is included, you really don't have to think about a lot. There's so many different activities on board for people to enjoy.
Ad. Article continues below.
"You can choose what you want to do right throughout the cruise, it's just a very relaxing experience for everybody," he said.
If you have been on a cruise yet, there might not be the chance to jump aboard Legend of the Seas from Brisbane, but there are many other vessels to enjoy your first cruise experience on, Peter adds.
"It's just a great relaxing holiday. There are some great dining experience if you like your food and wine. Everything else is taken care of. It's a great holiday."
Have you been on the Legend of the Seas? Are you a regular cruiser? Let us know in the comments section below.