Church sculpture makeover sparks shocking comments from the public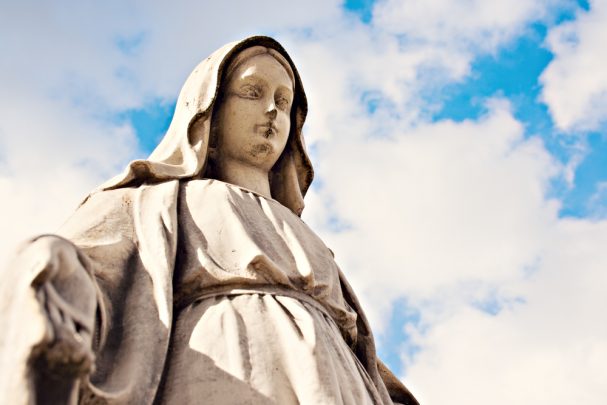 A sculpture of Mary and baby Jesus are causing a few heads to turn in the city of Ontario, Canada, but for all the wrong reasons.
The head of the baby Jesus statue went missing about a year ago and it became difficult for the parish to find someone to repair it.
"It has to be custom made. And nobody even wanted to consider it," the church's priest, Gérard Lajeunesse, told CBC News, adding that it would cost between $6,000 and $10,000 to repair. 
And unfortunately, this isn't the first time that the head of the baby Jesus has gone missing.
"The statue had been vandalised before, at least once, maybe twice," Lajeunesse said.
Ad. Article continues below.
"It's always Jesus' head that goes missing. Probably because it's smaller and easier to break off."
One good Samaritan and local artist decided to create a terracotta head to add to the piece, but the unfortunate difference in colour, and the fact that the head melts in wet weather, has proven to be unpopular with the locals.
Ad. Article continues below.
While the artist certainly meant well, people have been taking to the internet to leave their comments about the repairs.
Here are just a few of the things people have had to say:
"It will look great once the chia seeds sprout"
"He died for your sins, about 30 times"
"I'm no expert, but I don't think the Bible ever mentioned that Mary had Zika"
"I have an aunt who would do an incredible job on a Jesus head for that statue. She is a very talented artist. The church would have to be OK with Jesus looking just like my youngest cousin, though, since all her Jesus busts look like him to an alarming degree."
"So people would rather the baby Jesus be decapitated than be ugly? That's some Christian acceptance right there."
"Icing on the cake: the head is melting."
What do you think of the sculpture of baby Jesus? Go on, be nice!